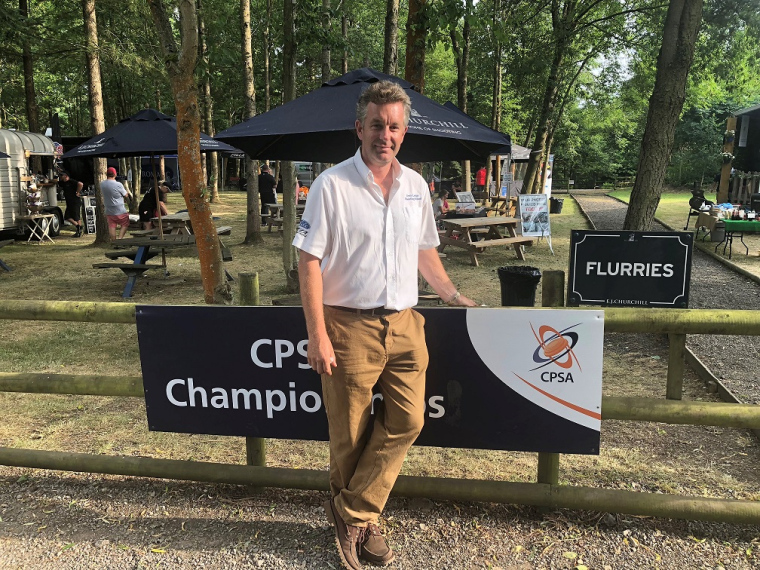 Article
CPSA World Festival of Shooting - Day four round up
England has lifted gold in the four-day CPSA World Sportrap Championships with Richard Faulds MBE, from Hampshire putting in an incredible score of 91 ex100 on day three, which was strong enough to hold and outright win the title of World Champion.
Hot on Richard's heals was US Junior shooter Braxton Oliver and French Senior Christophe Auvert, who each shot a 90 ex100, which meant they had to battle it out in a shoot-off to decide runner-up and third positions. With only Braxton turning up for the shoot-off he secured runner-up. Meanwhile Dominic Gross, Gebben Miles and Bill McGuire, who all shot an 88 ex100 had to shoot-off for second and third place in AAA class, with Gebben shooting a straight to secure second in AAA, one point behind fellow US shooter Kevin De-Michael who shot a brilliant 89 ex100.
In the ladies' category it was a battle between England, Russia the US for the Ladies World Title with
Cheryl Hall from
England,
Inna Alexandrova from Russia and Katie Fox from the US, each shooting a 79 ex100 to draw in pole position. After a single round of 25 Katie finished with a 19 ex25, while Cheryl and Inna drew on a score of 23, which lead to sudden death, where Inna only dropped one target to win the Ladies category.
Gold in the Veterans went to Bill McGuire from the US for shooting a brilliant 88 ex100 and in the Super Veterans category Graham Stirzaker from England earned gold for shooting a brilliant 83 ex100.
Meanwhile in the CPSA World English Sporting Championship, the second rotation of shooters arrived to shoot day one on the red and blue courses. Putting in strong scores and the ones to watch for tomorrows second instalment are Phil Smith with 92 ex100, Sam Green, Ed Solomons and C. Wait on 91 ex100
On the FITASC Sporting, we have changes at the top with Richard Faulds once again excelling with a score of 95 ex100 to take the lead, one point ahead of Kevin De-Michiel, with Michael Hibbert now in third place with his score of 93 ex100. With tomorrow being the last day to enter the FITASC sporting we are looking forward to seeing whether Richard can do the double.
With England currently holding all the top spots, the Prelim Sporting was no exception with Martin Myers putting in an outstanding 96 ex100 to knock Aaron Harvey from the top spot, closely followed by Richard Faulds and Richard Bunning on 92 ex100.
For regular updates on how the shooters are faring, follow us through our social media channels via Facebook @cpsauk, Twitter @CPSAuk and Instagram @cpsauk.
For the latest scores from today please follow the links below:
To view the list of current scores in PDF format please click below:
To view the current class and category breakdown in PDF format please click below:
We hope you all enjoyed the today's events and we look forward to welcoming you back tomorrow.