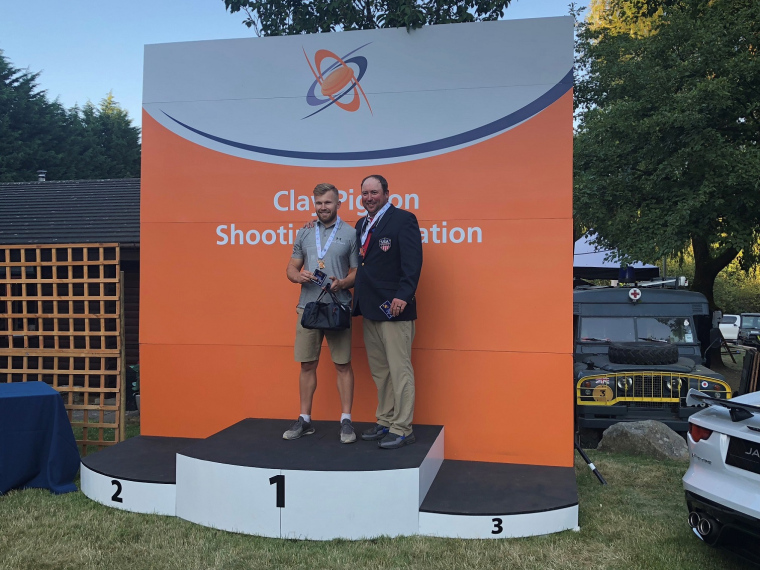 Article
CPSA World Festival of Shooting - Day five round up
English competitors, Jack Lovick and Richard Faulds finished the final day of the CPSA FITASC Sporting Open at EJ Churchill Shooting Ground, in Buckinghamshire on a joint high gun score. Richard who yesterday put in an incredible score of 95 ex100 was matched today by Jack Lovick, resulting in a shoot-off for High Gun and Runner-up. Unfortunately with Richard not making it back in time for the shoot-off, Jack Lovick was awarded High Gun, with Richard achieving Runner-up by default.
Hot on their heels was American shooter Kevin De-Michiel, a mere one point behind Jack and Richard, securing him third place in the CPSA FITASC Sporting Open.
English Veteran Kevin Jobling who shot today, pipped fellow countryman, Phil Rowbottom to the post, to win the Veterans category on a score of 91 ex100, one point ahead of Phil. In the Super Veterans category John Pool also from England put in an excellent score of 85 ex100 for an outright win.
In ladies, US competitor Diane Sorantino put in a superb score of 88 ex100, nine points ahead of her competition to lift the Ladies High Gun title. Battling it out for second and third place in Ladies with a joint score of 79 ex100 was Inna Alexandrova from Russia, against Louise Smith from England. It was Inna who flourished to achieve second place in the shoot-off, with Louise coming in third. Replicating Diane's score, Finnish Junior shooter Juha Maninnen on Wednesday put in an incredible score of 88 ex100 which held to take FITASC Junior High Gun. But it was down to a shoot-off between US Juniors Jared Greenwood and Tom Seay to decide who would take second and third places. The shoot-off was quickly decided with Tom shooting one more target than Jared to achieve second, placing Jared in third.
With the second batch of scores coming in for the CPSA World Sporting competition today, new competition leaders have formed, with Gael Poinsot from France and Sam Green from England taking the lead on a score of 181 ex200, followed by Phil Gray in third on a score of 179 ex200. Will these scores hold, as the final shooters compete on Saturday and Sunday?
In the Prelim Sporting competition US competitor Derrick Mein shot a blinder today, only dropping one target to finish on an astonishing score of 99 ex100 to claim the lead, while English shooter Martin Myers also put in a strong score of 96 ex100, to overtake the weeks' reigning leader Aaron Harvey. With only one more day to shoot the Prelim Sporting we can't wait to see if Derrick's score will do it for America.
For regular updates on how the shooters are faring, follow us through our social media channels via Facebook @
cpsauk
, Twitter @CPSAuk and Instagram @
cpsauk
.
For the latest scores from today please follow the links below:
To view the list of current scores in PDF format please click below:
To view the current class and category breakdown in PDF format please click below:
We hope you all enjoyed the today's events and we look forward to welcoming you back tomorrow.