Article
English Open Olympic Skeet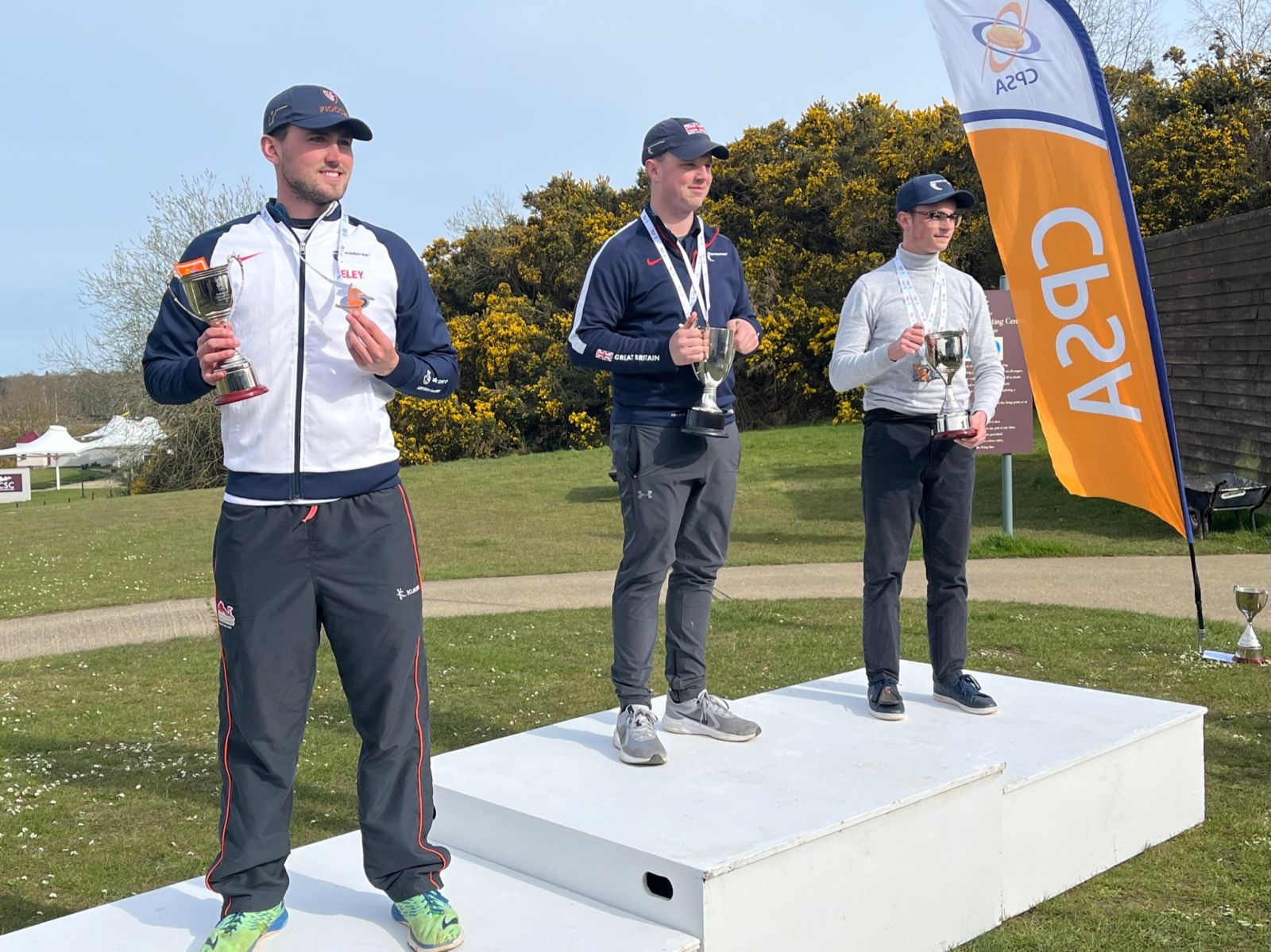 English Open OSK Champion Arran Eccleston with Runner Up Mitchell Brooker-Smith (Right) & Third Overall Jack Fairclough (Left).
The event was held at the National Clay Shooting Centre, Bisley over Saturday and Sunday 9th and 10th April. The Grounds have undergone a major refurbishment including new Promatic Traps in all four Trap and Skeet ranges, and the freshly painted layouts looked great in the April sunshine.
There were 41 entries for this 200 target competition incorporating an England Team Selection Shoot. It was held in mostly bright and dry conditions, but there was a biting wind all weekend, forcing most competitors to wear extra layers.
Junior Arran Eccleston started with 50 straight and took a commanding lead at the halfway stage with an excellent 97/100. In equal second position with 93/100 were Alex Wells and another Junior, Mitchell Brooker-Smith.
Madeleine Boyd led the Ladies with 88, with Bethany Norton on 85 and Madeleine Russel in third with 82.
Top Colt at the halfway stage was Sebastian Noakes on 87. Bethany Norton was just behind on 83 with 13-year-old Oliver Simons in third place on 63.
Leading the charge for the Veterans was Simon Davidmann on 83, just ahead of Frank Miller on 81, while Alison Nicol, one of only two Scottish CPSA contenders was third on 73.
At the end of day two, after eight rounds, Madeleine Boyd was still in first place in the ladies with 175. Bethany Norton retained the Silver Medal and Emma Isley improved her overnight score to take Bronze.
Things changed at the top of the Veteran's table, with Frank Miller taking Gold and the Trophy on 168, while Simon Davidmann had to settle for Silver with 155, and David Maddox crept up into Bronze Medal position with 153.
The Top three in the Colts category remained the same, with Sebastian Noakes shooting 90 on the second day to put him on 177 to take the Gold medal and move him up to 6th place overall. Bethany Norton won Silver with her 163 and Oliver Simons took the Bronze medal.
At the top of the leader board, Arran Eccleston continued scoring well and took the English Open Title with 187. Closing the gap slightly, Mitchell Brooker-Smith was runner up with 184, just ahead of Jack Fairclough who also did slightly better on day two to move into third place on 183.
Worthy of a special mention was Alex Wells, who finished in fourth place overall. I suspect he will not be in C Class for long!
The Junior section was very well represented, and of course Arran Eccleston took Gold and Mitchell Brooker-Smith took Silver. Andrew Payne also had a good second day and took the Bronze.
It was interesting to note that Five of the top Seven places were taken by Juniors – This is a fantastic achievement and reflects the passion, dedication and hard work put in by these Sportsmen and Women, and is also testimony to the level of coaching in the sport. This really seems to bode well for the success of our England Team and the future of the sport.
Thanks to CPSA SE Director Peter Saich for his report.
For the full results click here