Article
Final day - English Open Sporting Round-Up
The final day of the English Open English Sporting 2021 at Barbury Shooting School lived up to all expectations. With glorious sunshine to start the morning for the early shooters, spirits were high and shooters were excited to make their way around the last day of the course. Although the rain joined us in the afternoon, the final of day of shooting progressed with everyone enjoying their round.
Billy Baughan said "I had a really enjoyable round, the targets were really good. There was some tricky stuff, but stand 10 was particularly good and I enjoyed that. It ran faultlessly, I've really enjoyed it and I think the guys have done a great job."
Jack Lovick thought the course was "Very well balanced, tough in places and stand 15 in the lorry was a really interesting one to end on."
As the day progressed, Richard Faulds' score of 112 remained the score to beat. With the last squad finishing up around 4pm, and the scores counted by CPSA HQ, Richard Bunning had matched Faulds' 112.
The Super Final was called between Richard Faulds, Richard Bunning, Julian Freeman, Martin Myers, Jamie Pearce, and Chris Daniels.
Chris shot his way to the Super Final after having to battle it out on a three-man shoot off with fellow competitors Matt Hance and Phil Gray who all finished the Championship course on 109. Chris managed to hold his nerve on the tough shoot-off layouts which were positioned on the second section of the Barbury Course; He clipped Matt by 1 and Phil by 2, ending on a total of 10.
Four stands were shot in the Super Final. The Barbury ground staff incorporated the first shooting area of the main course and what had served as the Sportrap pool shoot and Stand 1 for the previous days, setting all with new targets. With the Promatic traps filled with flash clays to help the competitors, referees, and spectators see the 25 targets break in the wet weather conditions, the Super Final was ready to go.
Richard Faulds emerged as the new CPSA English Open English Sporting Champion for 2021 scoring 17ex25. This combined with his 112ex120 from the course earlier in the week to total 129ex145. Richard Bunning came in Second Overall with a 16ex25 which added to his 112ex120, placing him on 128ex145. Julian Freeman came Third Overall with his 17ex25, combining with his 110ex120 to finish on 127ex145.
Jamie Pearce, Chris Daniels, and Martin Myers shot an impressive 14, 14, and 13 respectively in the Super Final, which placed Jamie first in AAA Class, Chris first in AA Class and Martin second in AAA Class.
Fantastic shooting by all in very tough conditions. If you would like to watch the Super Final, a video is available on our Instagram page.
Ladies saw Amy Easeman emerge as High Gun on 97 earlier in the day, with Cheryl Hall on 93 coming second. Ladies Third was a shoot off between Hannah Gibson and Emma Stacey who both finished on a 92. Hannah and Emma shot amazingly, with their shoot-off needing three stands as they matched each other on the first two. Emma took Third by three targets. Hannah commented "The shoot today was fantastic with a really varied range of targets . Huw and the team have put on an amazing shoot. Tough but good".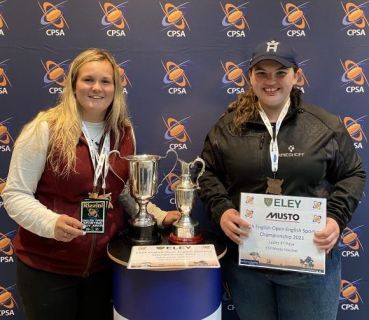 Lady Junior High Gun was Amy Easeman, Annalise Evans came second on 83, and then Lucy Earl third on 77.
Veteran High Gun was Mickey Rouse who finished on a 106, and Steven Whitwell and Steve Brightwell finished on a joint 105, with Steven taking second by default when called for shoot off.
Junior High Gun was taken by Will Fenner, and second was Josh Bennion. Dan King and Charlie Monaghan were joint on 98ex120, and both took to the shoot off to decide third place. Dan shot 4 against Charlie's 2, placing Dan third in Juniors.
Colt High Gun was Jasper Pearce (90), with Olver Keates second (88) and Alistair Turnball third (83).
Lady Colt High Gun was Emily Chumbley 56ex120 and Runner-up was Fearn Lancaster.
Disabled Standing High Gun was Paul Sadler, followed by Mark Delf and Lee Clements.
Disabled Sitting was won by Adrian Last followed by Benjamin Woodham.
Parent and Child was won by duo Jamie and Jasper Pearce on 200, who both won their respective classes/categories as above.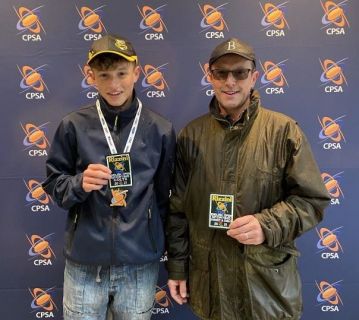 Steven Edwards won the Side by Side trophy.
Adam Rowe was A Class High Gun on 103, but there was an fight for second and third with four joint scores on 99. For the shoot-off, Fred Calton shot 3, leaving Grant Pendleton and Paul Finney battling on 4 for the final stand of the shoot off to place them. Grant scored one more than Paul making him second and Paul third.
B class was won by Matthew Smith, second was Melivn Taylor. Third places was decided by a shoot off between Stewart Own and Stephen Dale. Stewart Owen shot 5 over Stephen Dale's 3, leaving Stewart to take 3rd place in B class.
C Class was won by Adrian Last, Second was Ben Fordham and joint third was Ryan Cordner and Janet Galland.
2021 saw a estimated prize pot of over £15,000 split between the winners. Thanks goes to our generous sponsors who helped make this year's English Open English Sporting possible. Rizzini (distributed in the UK by ASI) are providing the High Gun of Veterans, Ladies, Juniors, and Colts with a BR110 Sporter. Eley Cartridges have kindly provided a number of cartridges and Swatcom are giving their new Active8 headsets for each category winners. Musto are also making sure winners are kitted out with some clothing vouchers. All Sponsors have given these prizes in addition to their prize fund contribution. We are also grateful for Promatic's support around the ground.
Well done to all who shot the championship over the week, it was a tough but exciting event.
A special thanks goes to Barbury Shooting Ground and all their amazing staff. Rain or shine all the Barbury team were on hand to make sure the championship ran seamlessly throughout the week. They put on an amazing shoot for their first Major Championship which proved an experience for all who joined us.
For the overall score breakdown, please click here.