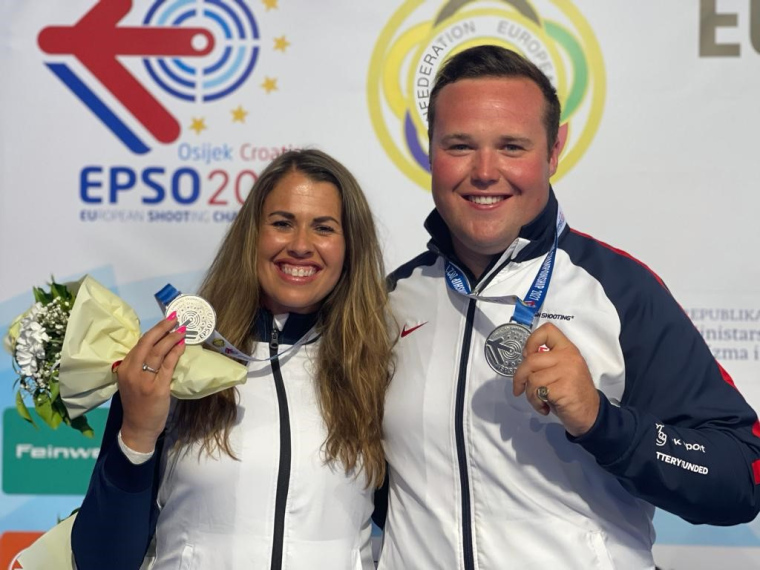 Article
More Team GB Success at the European Championships
Thank you to British Shooting for the following press release:
Matthew Coward-Holley and Charlotte Hollands have won silver at the European Championships in Olympic Trap Mixed Team (pictured above).
Both had strong performances in the qualification round with a combined score of 144 earning them a spot in the gold medal match against Jessica Rossi and Valerio Grazini of Italy.
It was Italy who eventually won the gold with a score of 41ex 50, beating GB's 39 ex 50.
The other senior GB team of Kirsty Hegarty and Aaron Heading unfortunately didn't make it through to the medal matches, but a special mention must also go to Aaron who shot 74 ex 75 in the qualification round.
The senior final was followed quickly by another GB bronze in Junior Olympic Trap Mixed Team from Tom Betts and Lucy Hall (pictured below).
In what was a fantastic way to round of a very successful competition for the GB Trap team, the pair were up against their fellow compatriots Michael Bovingdon and Madeleine Purser.
Fresh from her Individual Junior gold medal win just a few days ago, Lucy performed with such confidence and a strong score of 43 ex 50 from her and Betts was enough to win the bronze against Bovingdon and Purser's score of 38 ex 50.
Speaking after the win, Lucy said: "The whole competition has been absolutely excellent and the team around us have really helped us in every way they can."