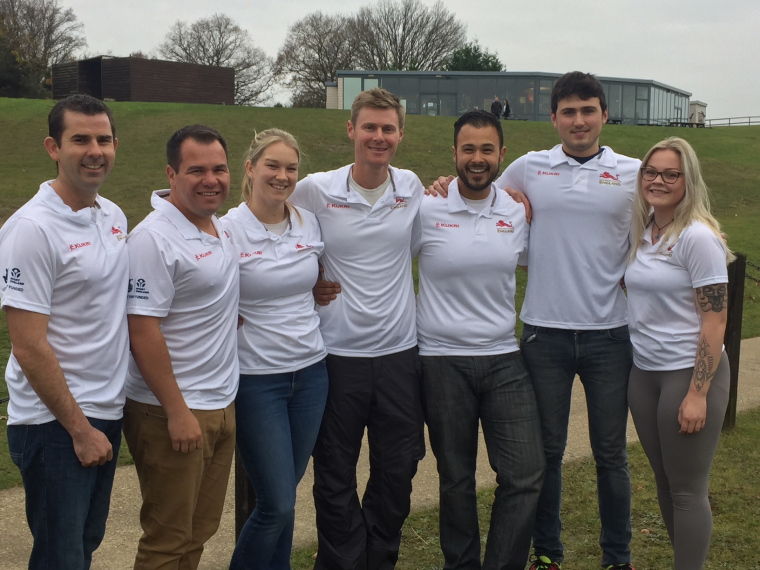 Article
Team England Shotgun Squad Commonwealth Games Announcement
(L-R: Ed Ling, Steve Scott, Abbey Ling, Matt French, Aaron Heading, Jack Fairclough, Emily Hibbs)
We are delighted to announce that Team England has selected a team of eleven shotgun shooters to compete at the 2018 Commonwealth Games in Australia.
The eleven shooters are as follows:
Freddie Killander – Skeet
Jack Fairclough – Skeet
Matt French – Double Trap
Steve Scott – Double Trap
Ed Ling - Trap
Aaron Heading – Trap
Amber Hill – Skeet
Emily Hibbs – Skeet
Rachel Parish - Double Trap
Abbey Ling – Trap
Ellie Seward – Trap
Double Commonwealth champion and Rio 2016 Olympic bronze medallist, Steve Scott said, "It's always an honour to represent England and on a personal level, to be attending my third Commonwealth Games is something I am very proud of. The aim will definitely be to try and win another gold medal, but I know it will be tough as the level of competition increases at every Games.
"I have some great memories from the shoot-off against Matthew French in Glasgow and if I come away from the Gold Coast with similar memories then I'm sure it's going to be a brilliant Games."
Amber Hill competed at her first Commonwealth Games four years ago in Glasgow at the age of 16. Speaking ahead of her second Commonwealth Games she said, "I'm super excited about the Commonwealth Games, especially with it being in Australia, it will be an incredible experience to represent Team England. There will be so much pride when we're out there.
"I've learnt so much since Glasgow and gained so much experience so hopefully I can put it all into practice in Australia."
Team England Shooting Team Leader, Christian Schofield added, "We're very excited to be taking part in the Commonwealth Games on the Gold Coast next year. The team members have come through a tough selection process and thoroughly deserve their place in what looks to be a very capable shooting team.
"We will now begin the hard work of training for the Games in the hope of making everyone in England proud of our endeavours. Congratulations to those athletes selected and thank you to you and your coaches for the hard work and commitment getting to this stage."