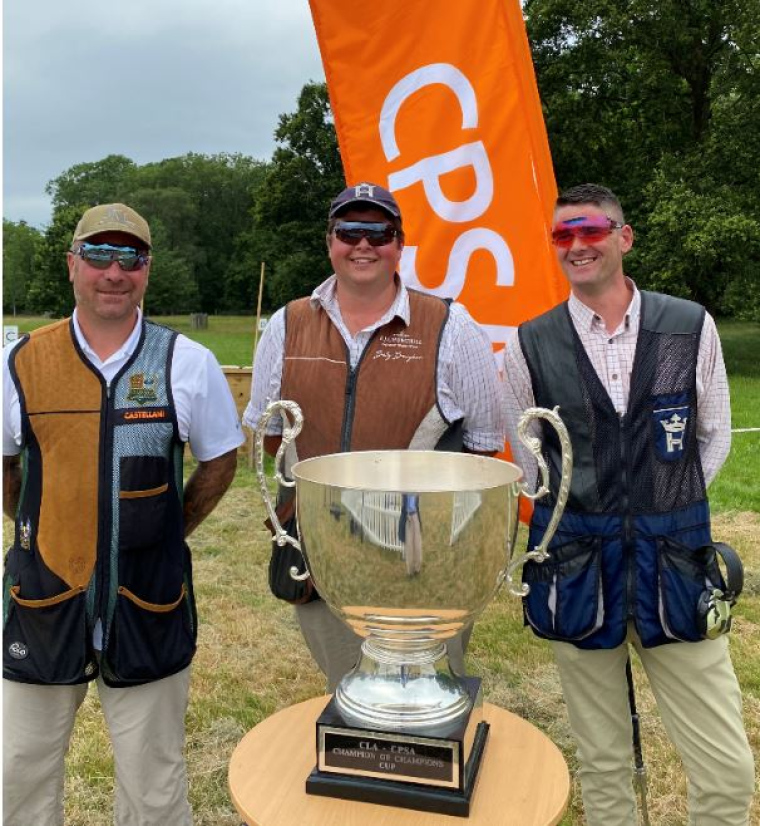 Article
Billy Baughan Wins the CPSA Champion of Champions
Billy Baughan, representing Buckinghamshire, has won the CPSA Champion of Champions title at the annual clay-target shooting competition at The Game Fair. Julian Morris placed second, and Darren Stamford took third. Billy won after only missing one target of the 25-target super final.
The Champion of Champions is an invitational competition, with each CPSA County Committee in England invited to submit a County Champion to compete for the title. Billy continues to be one of Buckinghamshire's best shots and recently won the Buckinghamshire County Sporting Competition which qualified his entry into the competition. Billy regains his title after winning the Champion of Champions at The Game Fair in 2018.
The competition consisted of 50 targets shot on The Game Fair Challenge, an English Sporting course run by E.J. Churchill's, a course that was also open to all attendees of The Game Fair throughout the weekend. The top five County Champions from this course were then invited to compete in a final which consisted of a 25-target Sportrap layout.
After a morning of shooting the course, Jason Allaway finished on 48ex50, and Billy Baughan and Julian Morris finished on 46ex50, shot the three highest scores to qualify as one of the five CPSA Champion of Champions Super Finalists. Shaun Stacey, Darren Stamford and Jason Turner shot the fourth highest score finishing on 44ex50, which required a shoot off between the three, to secure one of two remaining places for the super final. The shoot off consisted of four simultaneous pairs, with Darren scoring highest to take the fourth spot; on 7ex8 and Jason and Shaun tied on 5ex8. After a sudden death shoot off to break the tie, Shaun took the last remaining spot in the Super Final.
Well done to the following CPSA Champion of Champions Super Finalists 2021 - Jason Allaway, Billy Baughan, Julian Morris, Darren Stamford and Shaun Stacy. The Super Final was shot straight through, and positions were secured with no ties, with only two targets dividing first, second and third place.
The results were as follows: Jason Allaway 17ex25, Billy Baughan 24ex25, Julian Morris 22ex25, Darren Stamford 19ex25 and Shaun Stacy 18ex24.
Billy said after his win: "It feels great to have won, it was a really great shoot. I shot 46 on the 50 target sporting which was good enough to qualify me for the super final. Jason Allaway shot a 48 which is a great score. I did enough in the final, shot 24ex25. It was a tricky sportrap layout so I was really happy with that."
For taking the title Billy won the top prize of an Isuzu Pick-Up Truck lease for 6-months, along with 1000 Gamebore cartridges, a £100 Musto voucher, £200 prize fund + 1-year CPSA membership. £300 also went to the Buckinghamshire CPSA County Committee. The second and third place winners also received Gamebore cartridges, Musto cartridge vouchers, cash prizes and CPSA memberships.