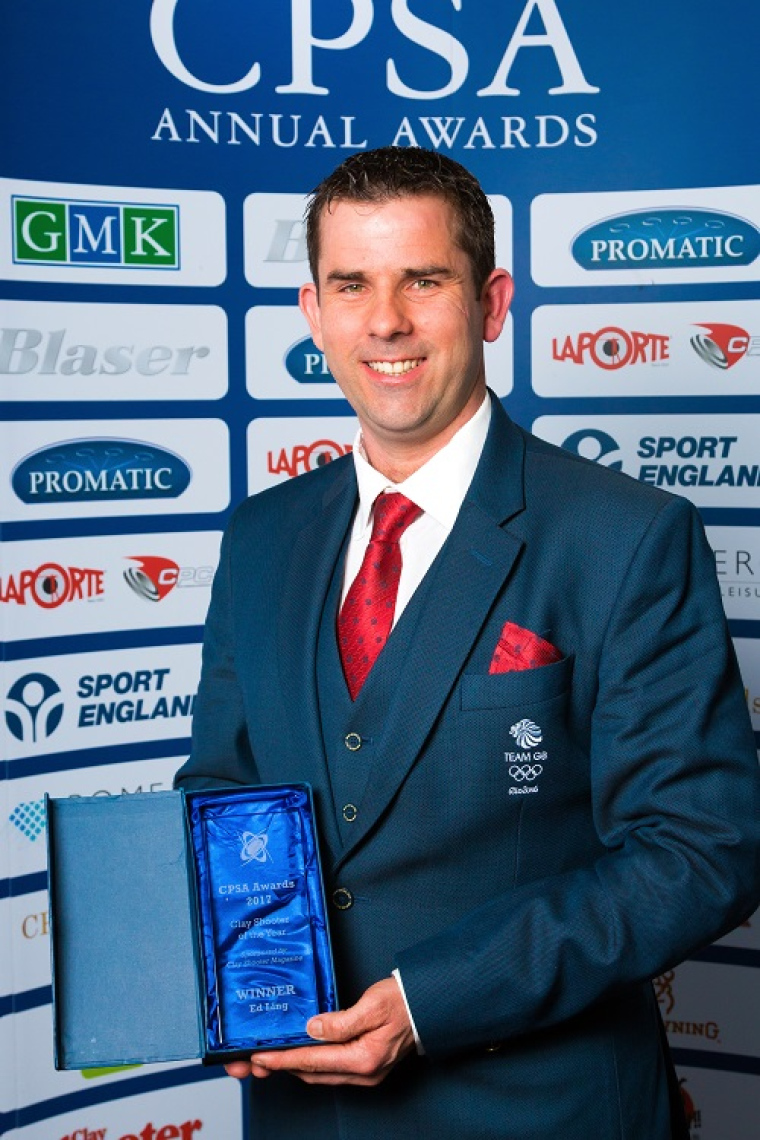 Article
Ed Ling Named Clay Shooter of the Year
ED LING was voted Clay Shooter of the Year at the 6th Annual CPSA Awards at The Belfry Hotel & Resort on Saturday night.
The Taunton born shooter received the award having been voted for by CPSA members from a shortlist of five contenders, which also featured fellow Olympic Bronze medallist Steve Scott.
Upon receiving his award Ed said, "It's a great honour to be up here and I'd like to thank the CPSA for organising the event. I must also thank my family for all the support they have given me over the years. This is a fantastic way to round off what has been a great year for me."
Former Olympic swimmer Sharron Davies MBE hosted the awards, with names from all corners of the Shooting spectrum present. The event was also attended by the Mayor of North Warwickshire, Councillor John Smitten.
On what was a fantastic evening, nine awards were presented, each focusing on a different aspect of the sport to acknowledge outstanding achievement in that field. All the nominees and winners of the awards were voted for by CPSA members.
Among the highlights of the night, Julie Sperling and Cheryl Hall were both clearly delighted to receive awards highlighting their voluntary and development work for the sport.
Yorkshire based instructor Linda Grayson picked up the Coach of the Year, with Amy Easeman crowned Young Shot of the Year and Andy Womble named Disabled Shooter of the Year.
There was barely a dry eye in the house when Martin Barker was posthumously awarded the Special Contribution award. Martin's wife Nicky and son Ed picked up the award on his behalf.
Following the success of the CPSA World English Sporting in 2016, E.J. Churchill Shooting Ground in High Wycombe was named Ground of the Year.
Cheshire was named County Committee of the Year, which is testament to the hard work and time the Cheshire committee put into developing their website and communication methods to appeal to a wider target audience in the region over the past 12 months.
Massive thanks must go to all the sponsors who supported each of the award categories, many of whom generously donated prizes.
We would also like to thank everyone who generously donated to the £1,165 which was raised on the night in aid of Macmillan Cancer Support.
The Awards were streamed Live on Facebook on the night and can be watched back at https://www.facebook.com/cpsauk/videos/1414461678566789/
Full list of winners:
Clay Shooter of the Year: Ed Ling
Special Contribution Award: Martin Barker
County Committee of the Year: Cheshire
Disabled Shooter of the Year: Andy Womble
Ground of the Year: E.J. Churchill
Young Shot of the Year: Amy Easeman
Volunteer of the Year: Julie Sperling
Development Initiative of the Year: Cheryl Hall
Coach of the Year: Linda Grayson