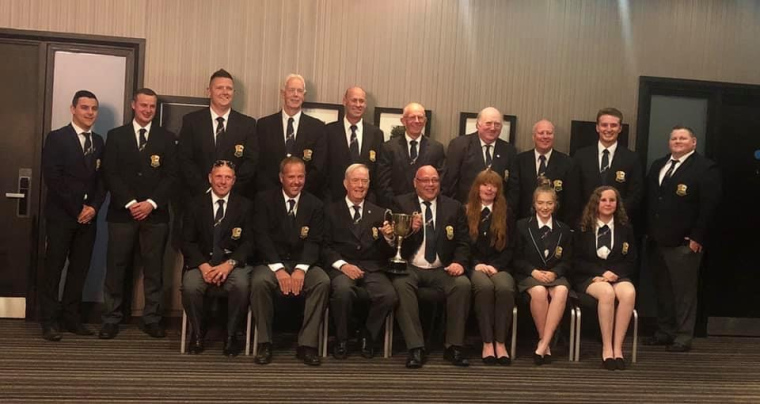 Article
Olympic Trap Home International Results
England Olympic Trap Team at NCSC 2019.
Back Row (Left to Right)Shaun Wood Mark Shaw, Adam Gutteridge, Keith Kilvington, Mike Wensley, Phil Sanders, Chris Tate, Rod Gould, Michael Bovingdon, Matt Panter
Front Row (Left to Right)Andy Greenwood, David Lloyd, David Thornton (Capt), Gary McCann (Team Manager), Ellie Seward, Elise Dixon Maddie Purser
The 43rd Home International was Hosted by England at The National Clay Shooting Centre, Bisley, on Friday 23rd and Saturday 24th August 2019, this event was to be keenly contested, by all of the Home Nation's. The ground was looking Immaculate and the targets were set as would befit any Home International Event.
However Home advantage was going to be key to England's success and the bright brilliant sunshine was in evidence for the whole of the event, most of the team having recently returned from overseas shoots, obviously favoured the sun on their back, with the other nations missing the wind, rain and mostly blustery conditions they are used to, at their home grounds. At the end of the first day Mike Wensley Led the field with a solid 96 followed by another 4 shooters on 95. In the Team Event England Seniors led Scotland by 40 points and England Ladies/Juniors/Veteran's/Super Veteran's had a 16 point lead over Wales.
With the Weather Conditions becoming even warmer on the second and final day, the England Team rallied to the Team Manager's Call and they all continued to grind out high scores, which continued to increase their stance at the top of the leader board.
Towards the end of the competition, The Senior Team were in a commanding position, and when you have 2 Past Year Captains Tied on 190, it would appear that the event was in the bag, England had won by 65 points from Scotland, who had just pipped Wales by a single point for the Runners Up Position.
In the Ladies/Juniors/Veteran's/Super Veteran's Team Event, England were winners by 33 points from Wales.
This was a terrific effort by all of the Team, and hearty Congratulations to the New caps Maddie Purser and Elise Dixon, who I am sure will go on to represent us again in the Future.
In the Individual Competition's, the final listings for Team Members was as follows.
High Gun of Match – Rod Gould
Runner Up – Mark Shaw
Senior High Gun – Rod Gould
Ladies R/Up – Ellie Seward
Junior R/Up – Michael Bovingdon
Veteran's High Gun – David Lloyd
Veteran's R/Up – Chris Tate
Super Veteran's High Gun – David Thornley
England High Gun – Rod Gould
Winning Team Manager – Gary McCann
Congratulations should be accorded to all shooters who competed in this event, and to the hosting Ground and the CPSA.