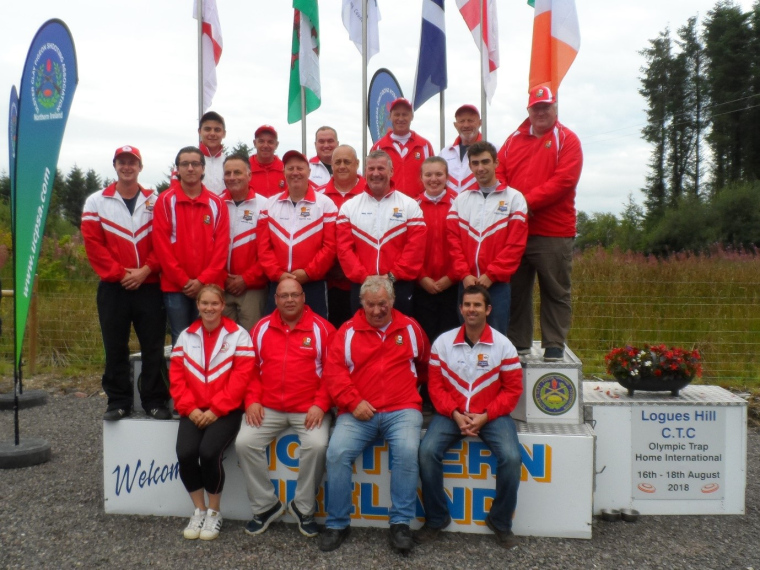 Article
42nd Olympic Trap HCIT
Congratulations to the England Olympic Trap teams on winning in both the Senior (809) and L, J, V & SV (526) categories, also to Abbey Ling on taking Ladies Runner Up High Gun of the Match (132+20) and to Ed Ling on taking Over All High Gun (143).
Great shooting from everyone at the 42nd Olympic Trap HCIT which took place at Logues Hill CPC - 17th & 18th August 2018.
For the full list of awards please click here
For the team scores please click here
The 42nd Home International was Hosted by Northern Ireland at Logues Hill Shooting Ground, on Friday 17th and Saturday 18th August 2018, this event was to be keenly contested, by all of the Home Nation's, the ground was looking Immaculate and the targets were on the Tough side, as would befit any Home International Event.
Unfortunately, after several weeks of warm weather, the shooters had to endure several spells of heavy rain and blustery conditions, which quickly reflected upon some of the early scores, and as the day unfolded, only 4 25 Straights were recorded (3 by England Team Members).
However, home advantage was key to David Henning as he took a 1 point lead over Ed Ling at the end of the first day, But in the Team Event England Seniors led Wales by 5 points and England Ladies/Juniors/Veteran's/Super Veteran's Had a 7 point lead over Northern Ireland
With the Weather Conditions becoming brighter on the second and final day, the England Team rallied to the Team Manager's Call and they all continued to grind out high scores, which continued to increase their stance at the top of the leader board.
At the end of the competition, The Senior Team had won by 32 points from Northern Ireland, who had just pipped wales by a single point for the Runners Up Position.
In the Ladies/Juniors/Veteran's/Super Veteran's Team Event, England were winners by 22 points from Northern Ireland.
In the Individual Competition's, the final listings for Team Members was as follows.
High Gun of Match – Ed Ling
Senior High Gun – Ed Ling
Ladies R/Up – Abbey Ling (After a Shoot off)
Junior High Gun – Theo Ling
Junior R/Up – Daniel Campey
Veteran's High Gun – Mike Wensley
Veteran's R/Up – Stephen Linley
Super Veteran's R/Up – Steve Ling
Captain's High Gun – Rod Gould
England High Gun – Ed Ling
Winning Team Manager – Gary McCann
Congratulations should be accorded to all shooters who competed in this event, and to the hosting Ground and the UCPSA.
Gary McCann
Team Manager
.