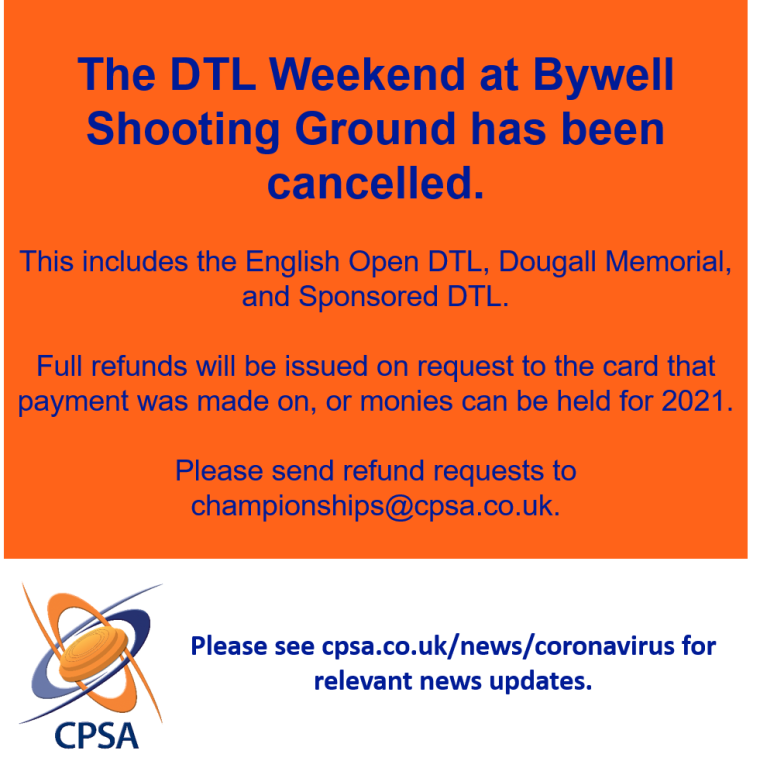 Article
DTL Weekend Cancelled
Due to the Coronavirus pandemic, the DTL Weekend events (Sponsored DTL, Dougall Memorial, and English Open DTL) that were scheduled for 5-7 July 2020 have been cancelled. This follows from our announcement of 18 March that the ICTSF World DTL Championships (scheduled for 8-11 July at Bywell) have been postponed to 2021. We can confirm that the new dates for the combined events will be 6-12 June 2021 (subject to ICTSF ratification).
Full refunds of competition entry fees can be requested or monies held until the next DTL Weekend in 2021. Please email championships@cpsa.co.uk to request a refund, if that is your preference. Please bear with us for up to 10 working days to process refunds, as many of our staff have been furloughed. Unfortunately, we are not able to make refunds for Visitor Permits that have already been processed by the police authority for anyone who was travelling from overseas for these events.
These are exceptional and difficult times for everyone, and we hope you all keep safe. In the meantime, we will be working closely with the Bywell Shooting Ground and the ICTSF as we plan for the DTL Weekend events and the ICTSF World DTL Championships next year.
We would like to thank all the sponsors who were supporting this event in 2020 and look forward to working with them all for next year's DTL Weekend and a rescheduled World Down The Line Championships.
For all CPSA updates related to Coronavirus, please see cpsa.co.uk/news/coronavirus.