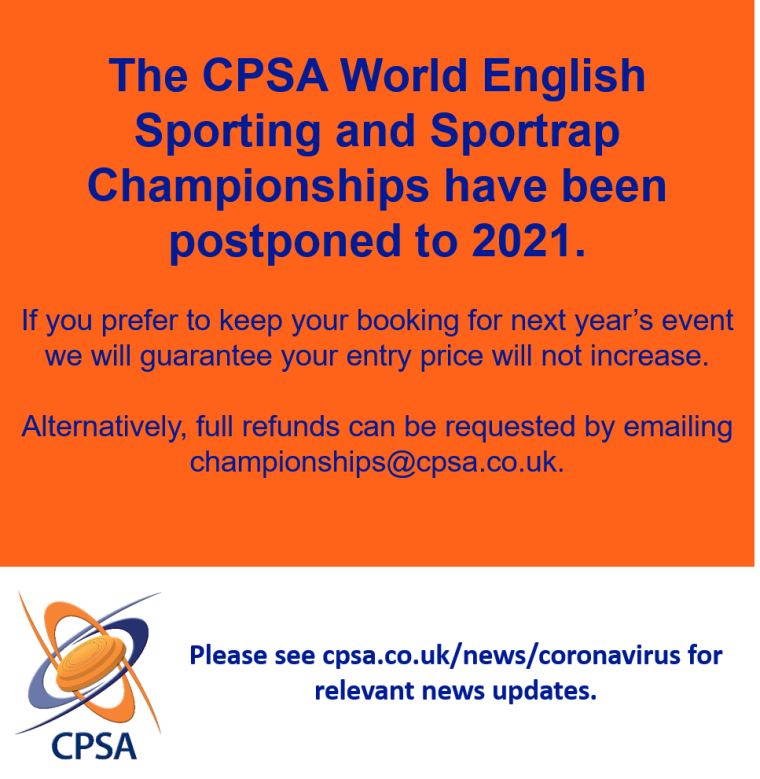 Article
CPSA World English Sporting and Sportrap Championships Postponed to 2021
Due to the Coronavirus pandemic the CPSA World English Sporting and Sportrap Championships at E.J. Churchill Shooting Ground have been postponed to 5-11 July 2021. We would like to thank the National Sporting Clays Association in America for their support in this decision, they will now host the championships in 2022. We also thank E.J. Churchill Shooting Ground for their support. This was a difficult decision for all of us. Though we are disappointed not to host this celebration of our sport in 2020, we can all look forward to a world-class event next year.

This postponement also includes the FITASC Open and English Sporting Prelims that run concurrent to the championships.

You have the option to keep your booking for next year's event with the guarantee that you will not have to pay the difference should the price increase. Alternatively, full refunds of entry fees can be requested by emailing championships@cpsa.co.uk.

If you do not want a refund then no action is required at this time. You will retain the equivalent day and time slot in 2021 and will not be charged more in the event of a price increase.

Refunds will be made to the card that the payment was originally made on. Please allow up to ten working days for refunds to process due to the large volume we are dealing with. These events have over 3000 entries combined, so we may need to process a significant number of them. Our team, like most of the country, are now all working remotely from home, and must process each refund individually. It may then take up to three working days for the card companies to then transfer the funds. We appreciate your patience.

We would also like to thank the event sponsors for working with us during this time. We look forward to continuing to work with them as we move forward to the 2021 event.

These are exceptional and difficult times everyone is having to deal with on a daily basis, therefore your understanding is appreciated. We are all looking forward to later in the year when it is hoped that shooting and all outdoor activities can return to normal.

For more CPSA news related to Coronavirus, please see cpsa.co.uk/news/coronavirus.