Article
3rd World Para Trap Championships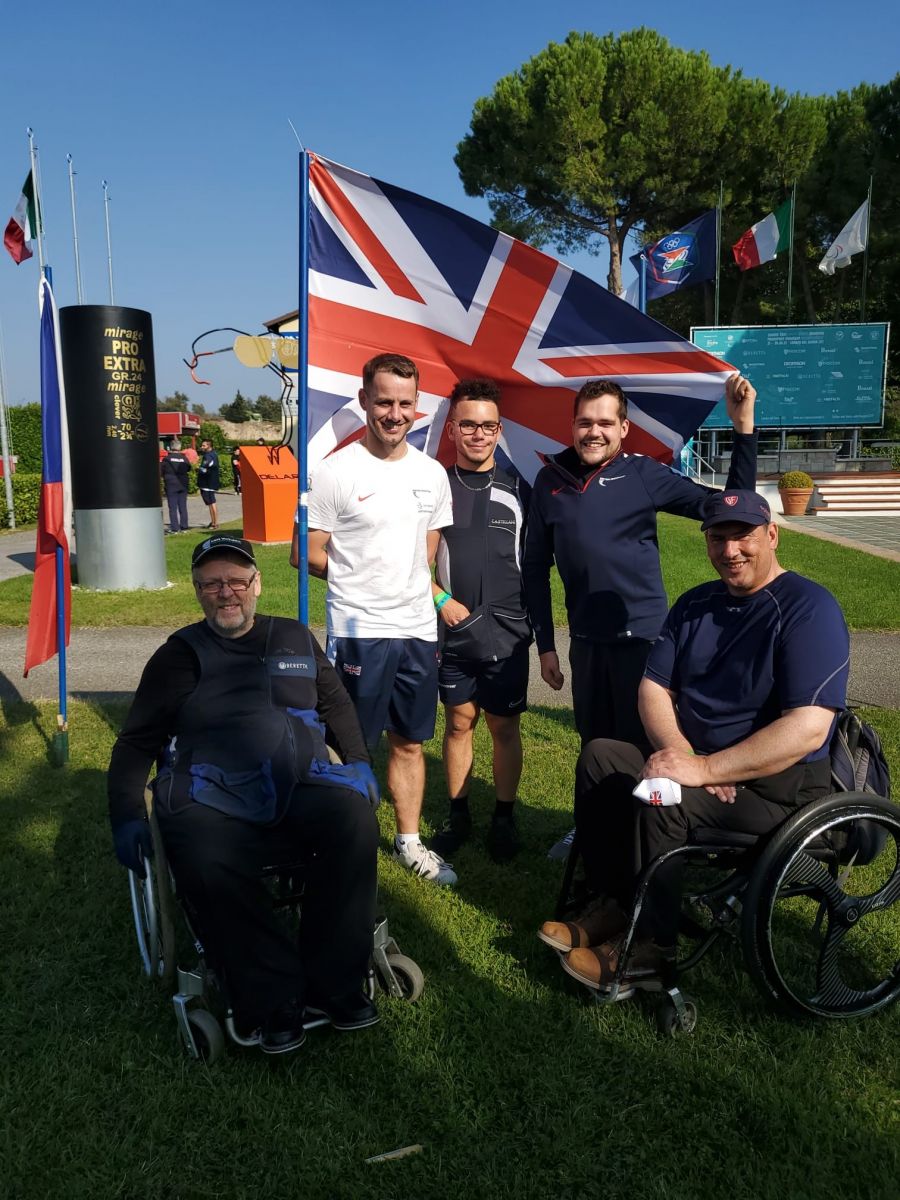 L-R: Trevor Green, Mike Drever, Reuben Welch, George Glover & Paul Bailey
September 24th & 25th saw the 3rd world shooting para sport para trap world championships at the glorious trap Concavedii Shooting Ground near Lonato in Italy. Set close to the southern end of Lake Garda and perfect weather conditions it was set to be a fantastic week. The competition was postponed from 2020 to 2021 due to the pandemic and anyone who has been fortunate enough to compete abroad this year will know just how much added stress and pressure is involved meeting the various covid procedures associated with it.
Up to a few weeks beforehand the UK was on a 5 day quarantine rule on entering Italy and we were waiting and hoping for either a sport exemption from the Italian government or a lift on the quarantine rule and thankfully it was lifted in time for us to at least enter a few representatives from the UK, although we all entered on an individual basis we worked with the close team spirit and mutual respect for each other that is synonymous with para trap.
This years event was especially important not only for para trap but for shotgun shooting as a whole because if successful we can possibly double our exposure with para trap in the Paralympics. The criteria for our application was to have at least 32 different countries taking part in para trap events over the 4 year (5 with the pandemic in this case) Paralympic cycle and we achieved that. The Paralympic committee is very keen on getting a good mix of male and female participants so with that in mind we got to see the first mixed male female test finals which was great to see and great to see more ladies tacking part. The 2 part applications will be looked at around spring time 2022 with if successful at that stage a more specific final stage tacking place later in 2022. This of course would be for inclusion in the 2028 Paralympics ,and yes it is a long road but what we have this far is amazing and the Paralympics would be the icing on the cake so to speak.
Para trap has 3 classifications and the athletes go through rigorous classifying process to determine their class.
Event PT1, Class SG-S: Athletes with poor balance and/or trunk stability, competing from a wheelchair in a standard seated position. Athletes have an impairment in the lower limb(s), but no functional limitation in the upper limbs.

Event PT2, Class SG-L: Athletes with good balance and trunk function, competing from a standing position. Athletes have an impairment in the lower limb(s), but no functional limitation in the upper limbs.

Event PT3, Class SG-U: Athletes with good balance and trunk function, competing from a standing position. Athletes have an impairment in the non-shooting arm.
In PT1 GB had 2 shooters with Trevor Green making his international debut and although suffering with nerves had a great introduction to international competition and is determined to do more in the future. Paul Bailey by contrast has competed internationally for over 20 years and finishing 5th at the last world championships he went to in 2018 you would expect him to be at the sharp end of the field but alas things didn't quite go to plan and the finals place was lost by a target, and finished 7th in the final results. Neofytos Nikolaou of Cyprus was the champion.
In PT2 GB was represented magnificently by George Glover who went into the final in first place with an awesome 110x125 and conducted himself impeccably but unfortunately had to settle for fourth place. Ignacio Oloriz Sanz of Spain was crowned champion.
In PT3 again GB had 2 athletes. Reuben Welch made his debut international appearance for GB and at 19 years of age is a great asset for the future of para trap! Like Trevor, Reuben had a great week learning how it all works and gained some great experience which will be carried forward into the future.
Mike Drever, another of our more experienced athletes, put in a consistent solid performance coming 7th and within a target of the eventual champion Emilio Poli who put on a show the likes of which would inspire anyone! Emilio shoots with one arm and one leg and to witness 39x50 single barrel balls of smoke was something very special indeed.
Given the difficulties faced with the pandemic and not having any team management in place what everyone achieved in just getting there was outstanding and helping each other through the processes faced reinforces the strength and resilience of our para trap athlete's and is the essence of the Paralympic movement.
Thanks to Paul Bailey for his report.