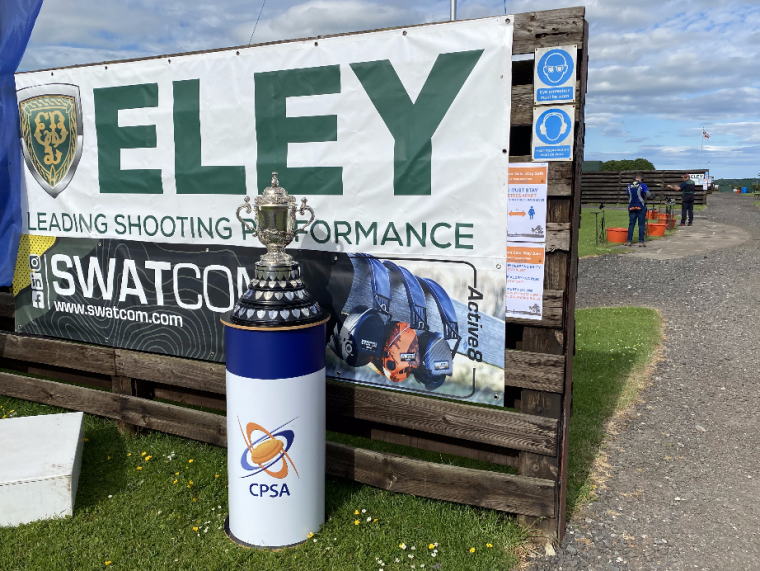 Article
DTL Weekend 2021 Round-up
The CPSA and our DTL shooting members descended on Bywell Shooting Ground once again for the CPSA DTL Weekend Championships, which is made up of three separate events: The Sponsored DTL, The Dougall Memorial Championship, and CPSA English Open DTL Championship.
Allan Henry and his team at Bywell had prepared the ground to perfection, with beautifully mown grass and layouts ready with CPSA Referees all in Bywell branded skeet vests,. With the kitchen cooking up breakfast baps as well, the stage was set for the 300 shooters competing each day.
Sponsor Eley and their team were on hand at their trade tent to help answer questions and speak to shooters throughout, along with CPSA Trade Member Pluggz taking ear-moulds for custom hearing protection.
Each morning the championship opened with a random competitor raffle, drawn live on Instagram and Facebook with each daily event's 'back numbers' added to a random number generator, with three selected to take home a prize of a Swatcom range bag, a Musto Cartridge bag, and a CPSA goodie bag, respectively. Congratulations to the following who all won a prize kindly donated by our partners: Gary Peters, Gerald Sweet, Craig Bennington, Geoff Nutter, Bernadette Quinn, Bill Logan, Nigel Lovatt, Corrina Brinks and George Turns.
Sponsored DTL Day:
The Sponsored DTL Day 2021 was a breezy day for all competitors on the three rotations spread out over the 12 layouts. There was great shooting throughout the day by all levels, but in the end, Tom Robinson took Overall High Gun on 99/297. Nick McKeown and Emma Holden both ended on 100/296 and battled it out during a shoot-off to be placed Runner-up and Third respectfully.
For a full list of scores and results for the Sponsors Day, please click here.
Dougall Memorial:
The Dougall Memorial is one of the oldest DTL competitions to be shot, as well as being one of the oldest in shooting history, dating back to its first presentation in 1896. Once again Bywell had a breezy start but the glorious sunshine kept moods high at the ground.
Paul Turner took High Gun with 100/300, with those who watched his round saying it was some of the best shooting they had ever witnessed. Paul said, "It's a privilege and an honour to win such a beautiful trophy, and it's even better to do the 100/300 maximum".
There was strong shooting all round, with several shoot-off's taking place for top positions as many competitors finished on similar top scores.
For a full list of scores and results for the Dougall Memorial, please click here.
CPSA English Open DTL Championship:
For the final day of the DTL Weekend, shooters took part in the English Open Championship. The English Open trophy is in its 100th year, having first been presented in 1921 (although it was put on hold during the World Wars).
As the last Championship of the weekend, the CPSA presented over 35 prizes and 20 trophies, keeping the trophy tables laden with silverware for the top shooters, who were celebrated not only for their individual performances, but also in a number of different sized teams.
Overall High Gun was newcomer Daniel Hudson who finished on the only 100/300 of the day. Amazingly Daniel has only been shooting for three months and this was his first 100-straight. A phenomenal achievement for being so new to the sport.
Dan told us, "For my first 100 straight it's great, and to do it on a day like this I am ecstatic…[it was] very breezy, I shot in the afternoon so it was very windy having picked up from this morning but the targets behaved themselves really well…it's still not sunk in what's really happened".
For a full list of scores and results for the English Open, please click here
Congratulations to all who shot over the weekend and for some great scores all round, and at all levels.
Thank you to Bywell for hosting this event again this year and for putting on a fantastic shoot that was enjoyed by all. Thank you to sponsors Eley for their continued support of the event, and for the 4000 cartridge prizes per day. Carl Weller said, "It's a fantastic event, one we support year after year, and one we wouldn't miss". We also thank new CPSA Headline Sponsor, Swatcom, for their support and for providing Active8 Headsets for the young High Guns of the English Open, and for their contribution towards the competitor raffle open to all shooting each day.