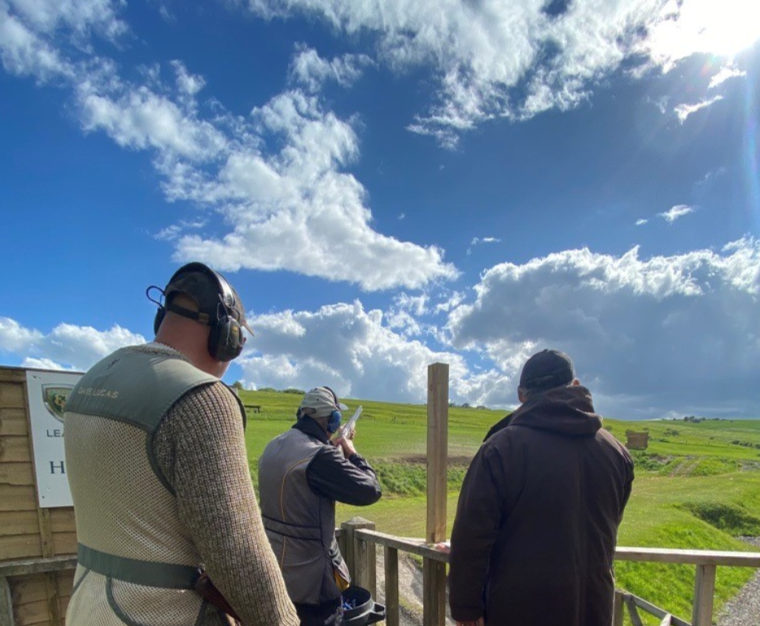 Article
English Open Sporting Day 4
It has been a lovely day here at Barbury Shooting Ground for Saturday, Day 4, the penultimate day of the English Open English Sporting.
All our fantastic referees had dried off after yesterday and were back on their stands ready for today's 230+ shooters to take to the course. They really are amazing and we are grateful to them for all their hard work.
Referee John Murray said "Everyone around the course is shooting well and being very polite. Going to be a good day for all". Bob Fisher and Tony Satchell added "It's a fantastic shoot, Barbury have worked really hard, the targets are great and its great to be involved".
At 1pm scores started to come in. A Class shooter Adam Rowe shot a 103ex120 making him first over 100 for the day, followed by AA Class Amy Easeman who shot a 97ex120. Amy said "I thoroughly enjoyed it, there is something there for everyone. I really had to dig deep after my Stand 3 nightmare, but other than that I was a really good course". Amy's score currently puts her at highest scoring Lady of the competition.
The morning saw some great shooting, with the following all putting in notable 100+ scores: AAA Class shooters Chris Orrin and Jamie Gutteridge 101ex120, and Tim Webster on 102ex120.
At 3pm AA Shooter Sam Upon laded new top scorer of the day on 107ex120, followed by Jason Turner with 104ex 120.
Steve Lovatt told us "it was a very enjoyable day, please to shoot with my eldest boy. All around entertaining, might get some points for the Parent and Child category". Steve shot 100ex120, and his son Harry finished on 98ex120
Jasper Pearce, a CPSA Sporting Initiative Shooter said "I was happy with how it went, although difficult with some tricky targets, there were lots of new ones for me so a good experience, and showed me I really need to work on some overhead targets"
At 5pm Jamie Pearce, Jasper's dad, put in a phenomenal 110ex120 at match Julian Freeman on Day 1.
As the last scorecards came in and the finals squads finished up, Richard Hughes shot on a 106ex120, and 2019 English Open Super-finalist and AAA High Gun Chris Childerhouse ended on 107ex120 after managing the course while walking on crutches.
Martin Myers joined Jamie Pearce and Julian Freeman on 110ex120. Chris Daniels, finished on 109ex120.
Top scores from earlier in the week have certainly been changed up now, with plenty still to play with tomorrow before the Super 6 final invitational for the overall topshots is called.
CPSA Chief Executive Iain Parker commented, "It's great to be here at Barbury Shooting Ground in Wiltshire for the English Open, we've had a really interesting competition so far. While a challenging a course, everyone we've spoken to has enjoying the championship. Thanks to all our sponsors, Barbury Ground staff and Referees over our first Championship of the 2021 season".
We are grateful for the generous support of sponsors Rizzini (distributed in the UK by ASI), Eley Cartridges, Swatcom and Musto who have provided guns, cartridges, hearing protection and clothing vouchers respectively as prizes for winners along with addition to the prize fund. We are also grateful for Promatic's support around the ground.
For the full English Open English Sporting scores, they are now available from our new shoot programme upload, found here: www.cpsa.co.uk/championshipscores.
To view the scores from today, please click here . For a breakdown of Class and Category, click here. For Teams, click here.