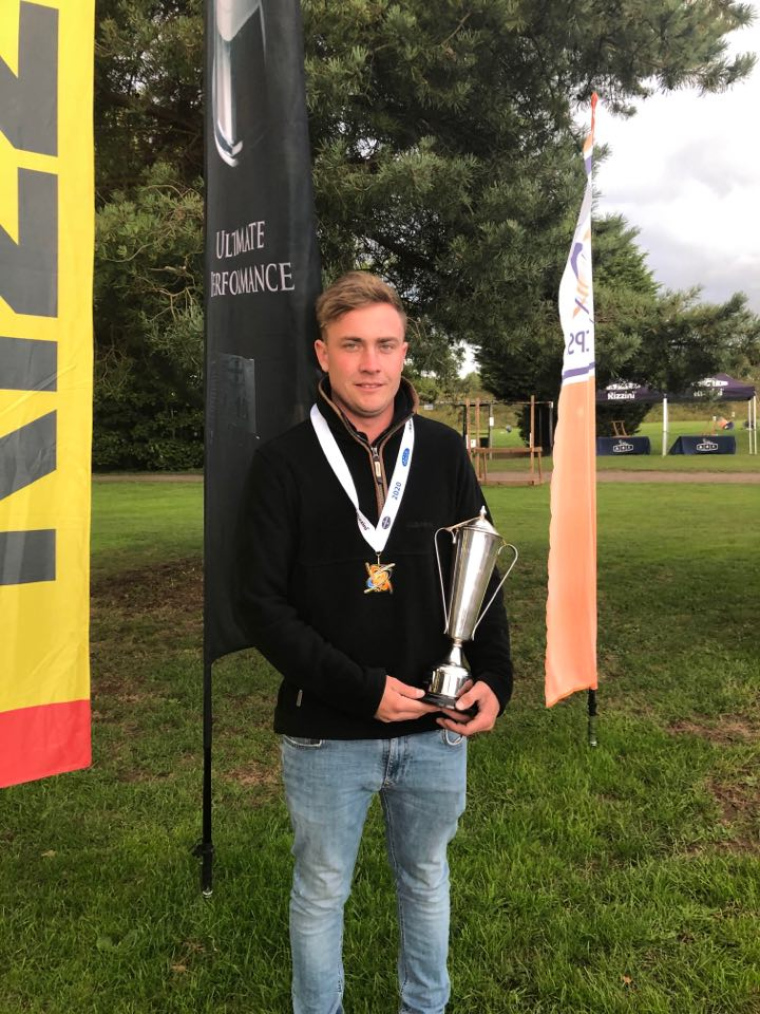 Article
Day 4 Roundup and Results of the CPSA BO ESP & STR
A beautiful start to Day 4 - the final qualifying day of the CPSA British Open Sporting, before Sunday's invitational Final, and the final day of the British Open Sportrap 2020. Dry, sunny and with a light wind made for a perfect start to those shooting early, and the conditions continued for the rest of the day. Cups of tea were on the go, ground staff were undertaking the final checks, and CPSA Sports Personality of the Year 2020, Tony Axcell, was spotted in a blue Hawaiian shirt.
The final day of Teague Raffle saw the following wins: 1st Prize a set of Teague Chokes – A Coppen; 2nd Prize a pair of Dedito Wellies – G Moule, 3rd Prize of a Clay Shooting Company Sunday Shoot – C Denham; and 4th prize of a CPSA membership for a year – SJ Scott. Well done to all who were the lucky winners in this blind raffle. We are grateful to all the companies who have donated the daily prizes for this Championship.
In the Sporting SF Brightwell and J Bladen put in a 102 ex120 to start the day off. By mid-morning, MN Webster had raised this to a 109 ex 120, with a notable shoot from PR Rowbottom on the same squad with 104 ex 120. Luke Taylor put in a 111 ex120 and Paul Thomas put in a 112 ex120. David Ferriman, Andrew Clifton and Mark Wniser all put in a 113 ex120 this afternoon and were the highest scores of the day. Although, Julian Freeman and Chris Childerhouse remain highest scorers of the Championship on 115 ex120. Notable scores of the day from: B Woolard (103), T Hedgecock (103), A Smith (104). J bowling (105) and Richard King (110).
Last year's British Open Sporting High Gun Richard Faulds said it was a "Very good course, very fair",
On the Sporting, she said "It was a good course. Very enjoyable and there was a good variety of targets".
Rebecca Adlam said "The Sporting was well balanced. I didn't feel like you walked up to any stand and didn't know what to do with them. There were lots of different types of targets – really something for everyone. But it was nice that you did have to think about the targets, it was technically testing".
Alfie Tibbles "A difficult but rewards course, set very well by Steve Lovatt".
Today was the final day of the Sportrap. James Attwood, Richard Faulds and John Lee all put in a 98 ex100 earlier in the week and made the top scores of the championship. They all came back to take part in a shoot off for High Gun this evening. After an 8 minute round, which we were able stream live on Instagram, James finished on 24 ex25 and was named CPSA British Open Sportrap High Gun 2020. Well done to James for some great shooting. Richard was named Runner-Up on 21 ex25, and John finished on 20 ex25 as Third Overall.
For full results list of the BO STR 2020, please click here. Congratulations to all who have placed in the British Open Sportrap 2020.
Sam Nunn, who came Third in the Disabled Standing Category said "It was good fun. Challenging, but you know these are Steve's [Lovatt] targets. Didn't know what to expect as I kept looking at the scores throughout the week, and they were making me quite nervous. I didn't think I'd make it past the 70 mark. It was a nice start, but got harder as you went around, but I am happy with how I shot". Sam finished on a 76 ex100.
Third in B class was also a shoot off, which was between Anthony Hoskins and S Aston. Anthony just pipped Aston to the post by 2 extra targets.
Hannah Gibson, who won Ladies High Gun this year, making it two years in the row commented "I thought the Sportrap was tricky. The sim pairs were especially hard but was still fun to shoot".
The event is made possible thanks to the generous support of sponsors Rizzini (distributed in the UK by ASI), Gamebore and Musto, who have provided a gun, cartridges and clothing vouchers respectively as prizes for winners. We are also grateful for Promatic's support around the ground.
Daily, the top five shooters from each class (AAA, AA, A, B, and C) and the top three from each category (Ladies, Seniors, Veterans, Juniors, Colts, and Disabled Standing and Disabled Sitting) will be invited to shoot the 75-target Final on Sunday. The top six scores from the Final will be invited to the 25-target Super Final on Sunday afternoon.
The following table shows all who have qualified each day, and are therefore invited back to shoot on Sunday for the 75 Sporting Final. Each category will have 2 squads, and each class will make up roughly 3.5 squads.
If you are unable to attend the Finals on Sunday, please call 01483 485414 to let us know.
| | | | | | | | |
| --- | --- | --- | --- | --- | --- | --- | --- |
| | 1 | 2 | 3 | 4 | 5 | 6 | Time |
| Squad 1 | William Page | Finley Bowles | Travis Durrant | Matthew Paley | Alf Bartle | | 09:00 |
| Squad 2 | Jack Twigg | Oliver Keates | Barney Eastman | Jasper Pearse | George Bailey | | 09:09 |
| Squad 3 | Matthew Bower | Darcy McBride | Eddie Morris | Archie Hughes | Alexander Johnston | Henry Bevan | 09:18 |
| Squad 4 | George Cheer | Fred Whitehurst | Ronnie Green | Alfie Tibbles | Josh Bennion | Brody Woollard | 09:27 |
| Squad 5 | Annalise Evans | Megan Gamble | Tanya Faulds | Emma Stacey | Amy Easeman | Sarah White | 09:36 |
| Squad 6 | Rebecca Kibble | Beckie Mckenzie | Hannah Gibson | Rebecca Adlam | Natasha Vadaz | Georgia Moule | 09:45 |
| Squad 7 | Stuart Clarke | Peter Simpon | Mike Harding | Patrick Dickman | Robin Heal | Timothy Howell | 09:54 |
| Squad 8 | Glen Hunt | Arnie Palmer | Carl Bloxham | Martin Doughty | Phil Rowebottom | Steve Brightwell | 10:03 |
| Squad 9 | Richard A Hughes | Adam Curtis | Karl Field | Chris Daniels | Paul Foster | Ben Hollamby | 10:12 |
| Squad 10 | Tim Webster | John Lee | Paul Hutchinson | Jake Moore | Mark Webster | Robert Wise | 10:21 |
| Squad 11 | Paul Bailey | Tony Cox | Simon Bubb | Craig Marlow | Mark Delf | | 10:30 |
| Squad 12 | Adrian Last | Lee Clemence | Craig Marlow | Sam Nunn | | | 10:39 |
| Squad 13 | Ghost | Ghost | Ghost | Ghost | Ghost | Ghost | 10:48 |
| Squad 14 | Anthony Cross | Ian Morris | Ray Adams | Roger Grimshaw | William Newman | Brian Twigger | 10:57 |
| Squad 15 | Micheal Rollason | Hayden Coham | Dayne Varnish | Martin Bull | Jamie Ashton | Nicola Elder | 11:06 |
| Squad 16 | Liam Clarke | Neil Bestwick | Henry Robertson | Robert Pethick | Richard Gration | Robert Kingston | 11:15 |
| Squad 17 | Simon Spingthorpe | Greg Holmes | Peter Hamlin | Rob Johnson | William Marsh | Susan Harwood | 11:24 |
| Squad 18 | Timothy Neill | Kevin Allen | Richard Hill | Peter Armett | Franko Duffy | | 11:33 |
| Squad 19 | David Gale | Andrew Gott | Richard Stubbs | Richard Ufton | Richard Kibble | Craig Boddice | 11:42 |
| Squad 20 | Ami Hedgecock | Martin Walmsley | Alistair Gurney | Daniel Lee | Glenn Halls | John Kaminski | 11:51 |
| Squad 21 | Tony Lennard | Adam McKeown | Lindon Selfridge | James Johnston | Trevor Francis | Brent Woodard | 12:00 |
| Squad 22 | Mark Jones | Janine White | Charlie Monahan | Dave Hughes | Jeremy Preece | John Hudson | 12:09 |
| Squad 23 | David Taylor | Stuart Clarke | Tony Curtis | Dan King | Craig Tolley | Alex Smith | 12:18 |
| Squad 24 | Joss Read | David Marshall | Kevin Jobling | Mark Fisher | Richard Atkins | S Greenwood | 12:27 |
| Squad 25 | John Garside | Adrian Johnson | Chip Smith | Paul Finney | Gareth Butler | James Hardy | 12:36 |
| Squad 26 | Marc Watson | Kevin Sherratt | Andrew Calvert | Martin Butcher | Samue Ward | Harry Seal | 12:45 |
| Squad 27 | Jake Bowling | Andrew Clifton | George Digweed | Huw Stephens | Sam Green | James Bradley-Day | 12:54 |
| Squad 28 | Billy Baughan | Shaun Stacey | Mark Bowes | Chris Biddlecome | Richard Bunning | Chris Childerhouse | 13:03 |
| Squad 29 | Will Fenner | Aaron Harvey | Stuart Cumming | Martin Myers | Julian Freeman | | 13:12 |
| Squad 30 | Richard King | Luke Taylor | Paul Thomas | Mark Winser | David Ferriman | | 13:21 |