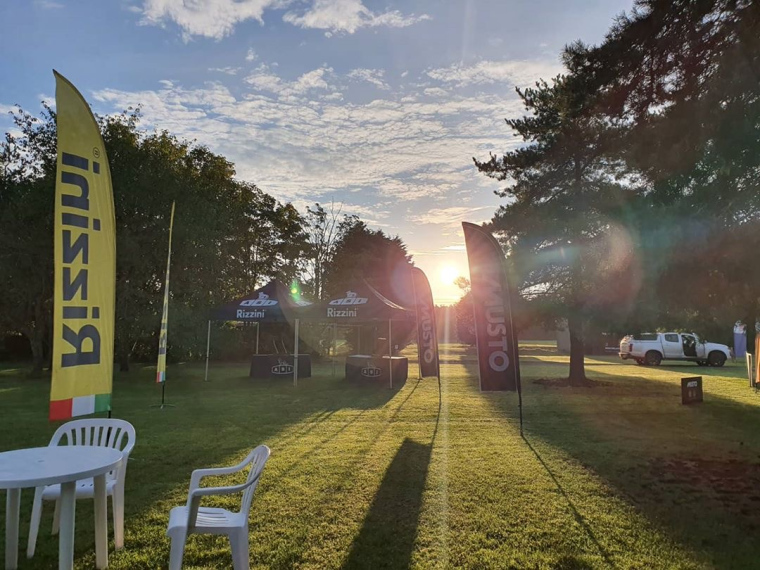 Article
Day 3 British Open Sporting and Sportrap Round-up
Day 3 of the CPSA British Open English Sporting and Sportrap was a stark comparison to yesterday's drizzle. Bright clear skies and a dry ground at Garlands, made for an enjoyable day of shooting. The rain held off, and a light wind throughout the day kept even conditions for all shooters taking part.
Today's Teague Raffle saw the following wins: 1st Prize a set of Teague Chokes – A Pope; 2nd Prize a pair of Dedito Wellies – B Cumming, 3rd prize a £100 Cens Voucher from Innolife – R Markham; 4th Prize of a Clay Shooting Company Sunday Shoot – A Higgs; and 5th prize of a CPSA membership for a year – B Ralph.
It was a nice easy start to the day. The first squads were out and round within the 2-hour mark. Will Fenner shot a 106 ex 120 setting the pace. Stewart Cumming followed with a 111 ex 120 shortly after. Miles Machin commented on today "Great targets, extremely enjoyable, and I think the degree of difficulty was positively fair"
After Day 3 of the British Open Sportrap, Colin Will's outstanding score of 98 ex100 from Day 1, was matched by John Lee and Richard Faulds, with one day now left to challenge their top score. Likewise, Colt William Page's exceptional score 97 ex 100, was matched by Martin Myers. This leaves Chris Childerhouse's 96 ex 100 with the third highest score. Lauren Goodman, on the penultimate squad, commented "Layout 3 and 4 were tough, but I know a lot thought the same. I really enjoyed it though. It needs to be hard, as it's only 100 targets".
Well done to all.
The side Pool Shoot competition was teamed with Rizzini sponsorship from today onwards, with ASI supplying a Rizzini BR110 to shoot the 25 sportrap to help those taking part win the £100 daily cash prize. Rizzini are providing the BR110 as a prize to all Sporting category High Gun's this year. Edward King said "Rizzini through ASI are delighted to be here...and happy to offer a tasty prize of the highest score for the pool shoot each day". Be sure to bring some extra cartridges with you, as worth a go to help get your eye in, or just for some more trigger time if you have the energy after your shoot. Dan King won todays pool shoot and was estatic to take home his £100.
The event is made possible thanks to the generous support of sponsors Rizzini (distributed in the UK by ASI), Gamebore and Musto, who have provided a gun, cartridges and clothing vouchers respectively as prizes for winners. We are also grateful for Promatic's support around the ground.
Daily, the top five shooters from each class (AAA, AA, A, B, and C) and the top three from each category (Ladies, Seniors, Veterans, Juniors, Colts, and Disabled Standing and Disabled Sitting) will be invited to shoot the 75-target Final on Sunday. The top six scores from the Final will be invited to the 25-target Super Final on Sunday afternoon.
The following table shows all who have qualified each day, and are therefore invited back to shoot on Sunday for the 75 Sporting Final. Each category will have 2 squads, and each class will make up roughly 3.5 squads.
If you are unable to attend the Finals on Sunday, please call 01483 485414 to let us know.
| | | | | | | | |
| --- | --- | --- | --- | --- | --- | --- | --- |
| | 1 | 2 | 3 | 4 | 5 | 6 | Time |
| Squad 1 | William Page | Finley Bowles | Travis Durrant | Matthew Paley | Alf Bartle | J Twigg | 09:00 |
| Squad 2 | O Keates | B Eastman | Colt | Colt | Colt | | 09:09 |
| Squad 3 | Matthew Bower | Darcy McBride | Eddie Morris | Archie Hughes | Alexander Johnston | Henry Bevan | 09:18 |
| Squad 4 | George Cheer | Fred Whitehurst | Ronnie Green | Junior | Junior | Junior | 09:27 |
| Squad 5 | Annalise Evans | Megan Gamble | Tanya Faulds | Emma Stacey | Amy Easeman | Sarah White | 09:36 |
| Squad 6 | Rebecca Kibble | Beckie Mckenzie | Hannah Gibson | Lady | Lady | Lady | 09:45 |
| Squad 7 | Stuart Clarke | Peter Simpon | Mike Harding | Patrick Dickman | Robin Heal | Timothy Howell | 09:54 |
| Squad 8 | Glen Hunt | Arnie Palmer | Carl Bloxham | Veteran | Veteran | Veteran | 10:03 |
| Squad 9 | Richard A Hughes | Adam Curtis | Karl Field | Chris Daniels | Paul Foster | Ben Hollamby | 10:12 |
| Squad 10 | Tim Webster | John Lee | P W Hutchinson | Senior | Senior | Senior | 10:21 |
| Squad 11 | Paul Bailey | Tony Cox | Simon Bubb | Craig Marlow | Mark Delf | | 10:30 |
| Squad 12 | | | | | | | 10:39 |
| Squad 13 | Ghost | Ghost | Ghost | Ghost | Ghost | Ghost | 10:48 |
| Squad 14 | Anthony Cross | Ian Morris | Ray Adams | Roger Grimshaw | William Newman | Brian Twigger | 10:57 |
| Squad 15 | Micheal Rollason | Hayden Coham | Dayne Varnish | Martin Bull | J R A Ashton | N Elder | 11:06 |
| Squad 16 | L M Clarke | N Bestwick | H Robertson | C | C | C | 11:15 |
| Squad 17 | C | C | Peter Hamlin | Rob Johnson | William Marsh | Susan Harwood | 11:24 |
| Squad 18 | Timothy Neill | Kevin Allen | Richard Hill | Donal McGovern | Peter Armett | Franko Duffy | 11:33 |
| Squad 19 | D G Gale | A Gott | R J Stubbs | R Ufton | R W Kibble | B | 11:42 |
| Squad 20 | B | B | B | B | Glenn Halls | John Kaminski | 11:51 |
| Squad 21 | Tony Lennard | Adam McKeown | Lindon Selfridge | James Johnston | Trevor Francis | Brent Woodard | 12:00 |
| Squad 22 | Mark Jones | Janine White | C Monerhan | D Hughes | J I Preece | J A Hudson | 12:09 |
| Squad 23 | D Taylor | A | A | A | A | A | 12:18 |
| Squad 24 | Joss Read | David Marshall | Kevin Jobling | Mark Fisher | Richard Atkins | S Greenwood | 12:27 |
| Squad 25 | John Garside | Adrian Johnson | Chip Smith | Paul Finney | G Butler | J Hardy | 12:36 |
| Squad 26 | M Watson | K I Sherratt | A Calvert | AA | AA | AA | 12:45 |
| Squad 27 | AA | AA | George Digweed | Huw Stephens | Sam Green | James Bradley-Day | 12:54 |
| Squad 28 | Billy Baughan | Shaun Stacey | Mark Bowes | Chris Biddlecome | Richard Bunning | Chris Childerhouse | 13:03 |
| Squad 29 | Will Fenner | Aaron Harvey | Stuart Cumming | Martin Myers | Julian Freeman | | 13:12 |
| Squad 30 | AAA | AAA | AAA | AAA | AAA | | 13:21 |