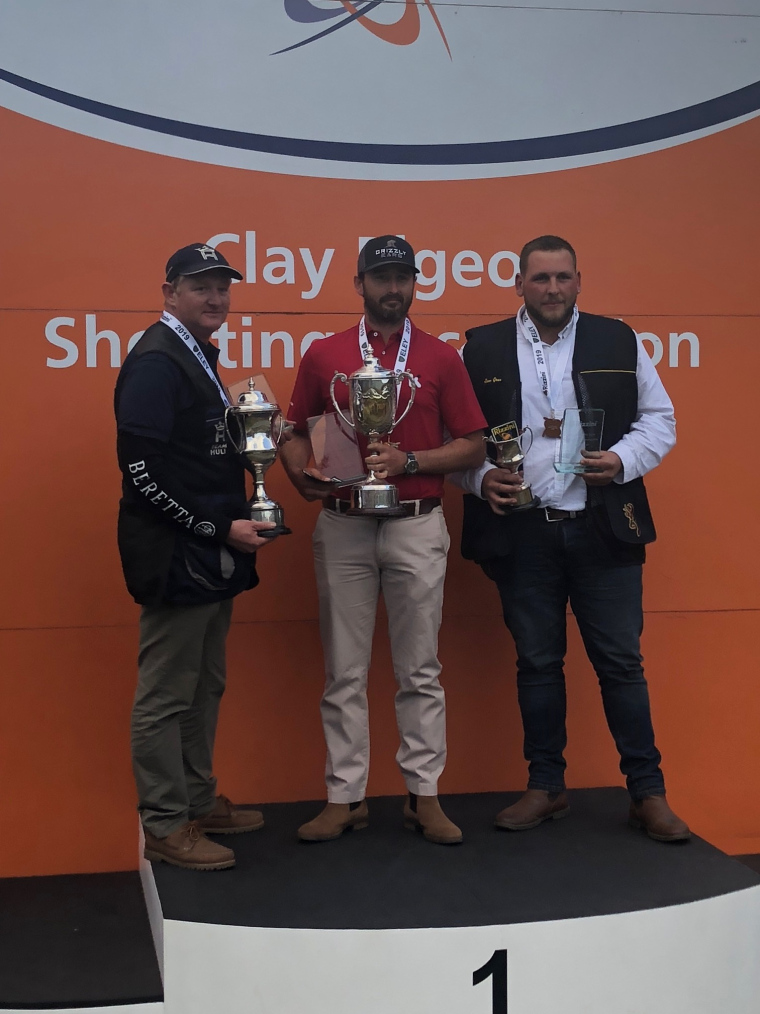 Article
English Open English Sporting 2019 - Final Day
The final day of the English Open English Sporting 2019 West Midlands Shooting Ground lived up to all expectations, with an exciting Super Final Shoot-off between Richard Bunning, Chris Childerhouse, Ben Husthwaite, Richard Faulds, Mark Winser, and Sam Green.
Three stands were shot in the Super Final on what had served as the Pool Shoot for the previous days, but had been set with new targets by ground-owner Tom Jones and his team for the event. The targets were superb, with the cherry-picker used for the infamous downward target on stand 15 in qualifications being set with a chandelle target thrown from the same height towards the clubhouse, where the finalists shot from a stand placed on the clubhouse balcony.
Mark Winser emerged as the new English Open English Sporting Champion scoring 25 in the 30-target Super Final, while defending Champion Richard Bunning came second with 20, and Sam Green Third with 18.
Ladies saw Cheryl Hall emerge as High Gun, with Lucy Pitt second, and Hannah Gibson third. Junior High Gun was James Bradley-Day, with Billy Greenwood second, and Thomas Woodcock third. Lady Junior High Gun was Amy Easeman, followed by Annalise Evans then Chloe Applin.
Veteran High Gun was John Bidwell, followed by Robert Gray and then Steve Brightwell. Colt High Gun was Dan King, with Darcy McBride second and Tristan Hockey third. Lady Colt High Gun was Ami Hedgecock.
Disabled Standing High Gun was Paul Sadler, followed by Sam Nunn and then Simon Tynan. Disabled Sitting was won by Paul Bailey, with Adrian Last second and John Harrison third.
Parent and Child was won by James and Thomas Woodcock and Mark Ingate won the Side by Side trophy.
Irish shooter Roland Morris managed to equal Iain Platts' feat of straighting the famous stand 15 today, adding another £100 to Referee Mick Kirby's fundraising campaign for his charity trek of Mount Kilimanjaro in support of the Amputation Foundation and Limb Power (on Saturday and Sunday the CPSA donated £100 for any straight of stand 15). View Mick's Just Giving page here.
The event is made possible thanks to the generous support of sponsors Rizzini (distributed in the UK by ASI), and Eley Hawk, who have provided a gun and cartridges respectively as prizes for winners, and Promatic Traps, who are supporting with trap engineers to keep everything running smoothly.
View the full results page here.