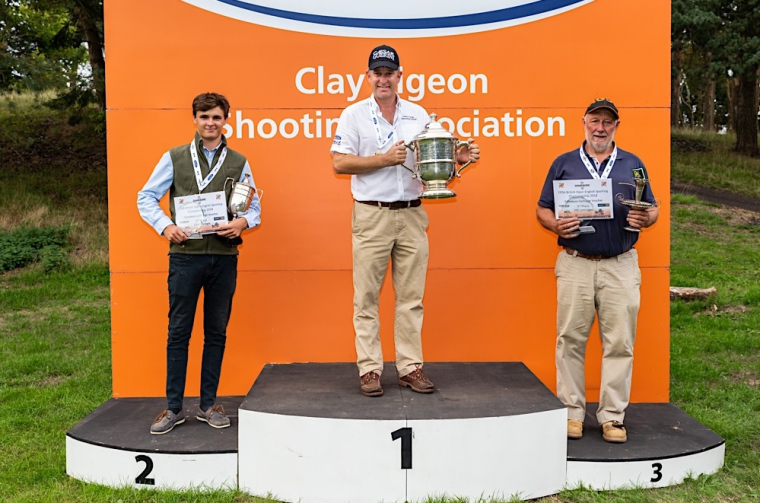 Article
British Open English Sporting Finals Day 2018
Richard Faulds MBE won the 2018 British Open English Sporting title today, rounding off a fantastic competition as set by Steve Lovatt of The Clay Shooting Company, here at Oakedge Shooting Ground over the past six days.
From Hampshire, Richard, the owner of Owls Lodge Shooting School shot the joint leading score of 114 ex 120 in the qualifiers to book his place in Sunday's finals, which was matched only by last year's champion Martin Myers.
On finals day, AAA class shooter Richard came out with a 69 ex 75 (joint fourth), with Nick Hendrick, one target behind today's leading score of 70 ex 75, shot by Arnie Palmer (2017 Runner Up), James Bradley-Day and Phil Gray, leaving just one more place in the six-man Super Final. However, with 10 competitors finishing on a score of 68 ex 75, a shoot off was required to decide the winner, which AA class competitor Josh Bennion emerged victorious from.
Now with an additional 25 targets to shoot to decide the title in the Super Final, enthusiastic crowds of well-wishers gathered to watch the top shooters battle it out for title and trophy.
Going into the first peg, James Bradley-Day and Richard Faulds were the only two competitors to clear the stand, leaving James one point in the lead. Unfortunately for James he dropped three targets on stand two, while Richard went on to clear the stand, putting him two points in the lead. With only one more stand to shoot, Richard dropped two out of his three last targets to finish on a 92 ex100 and claim the title.
For Junior competitor James Bradley-Day, he secured the Runner-Up and Junior title, only three points behind the champion, while Arnie Palmer and Josh Bennion tied on 87, meaning another shoot off was required to decide third place. Winning the shoot off, Arnie Palmer was awarded bronze.
After previously winning the title in 2005, Richard commented: "Absolutely delighted to win the British Open at Oakedge, Steve Lovatt and his team have laid on a fantastic event. I was lucky enough to shoot the highest qualifying score and scrape into the top six final today and shot a 23, which was good enough to win. To round the day off, with James Bradley-Day Runner-Up and Tanya fifth in the ladies, it was a great day for the family."
For Josh Bennion, all was not lost, as he went on to win first in AA class, while Nick Hendrick came first in AAA class, followed by Phil Gray second in AAA class.
Congratulations to all of today's class and category winners, Andy Head A class high gun (66 ex 75), Gary Tromans B class high gun (62), Glenn Halls C class high gun (55), Georgia Moule ladies' high gun (60), Amy Easeman lady junior high gun (57), Arnie Palmer veteran high gun (70), Ben Cumming colts' high gun, Ami Hedgecock lady colt high gun (43), Jamie Gutteridge disabled standing high gun (65) and John Harrison disabled sitting high gun (48).
Our thanks must go to Steve Lovatt and his team, who set the incredible course here at
Oakedge Shooting Ground
and the hosts of the competition, Paul Hodson and his team at Oakedge who provided such a superb venue.
We would also like to thank our sponsors, cartridge manufacturers
Gamebore
for providing a very generous 10,000 cartridges which was shared amongst the winners in category. Also to
Promatic
for supplying 55 traps and two engineers, plus assistance with the clays. Without all your support, including that of the competitors, events like these wouldn't be possible. We hope you all enjoyed the shoot.