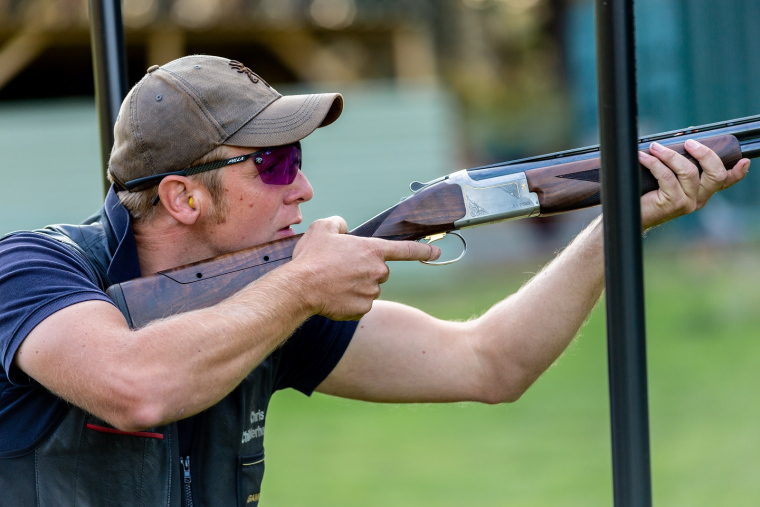 Article
British Open Sporting Day 4 Report
British Open English Sporting defending champion Martin Myers matched the best score of the week so far to book his place in Sunday's final on day four of the competition's qualifiers here at Oakedge Shooting Ground in Staffordshire today.
Myers, however, finished on a superb score of 114 ex120 to match Richard Faulds' leading score of the week. He commented: "It was a very good set of targets and I really enjoyed it." When asked how he prepared for today, he said: "No different to any other day, I just work five days a week and come shooting at weekends."
Joining Myers out on the course today was Arnie Palmer, who last year finished just one point behind the 2017 champion going into the six-man Super Final, so he was also one to watch. Palmer didn't shoot as well as he had hoped but still qualified in the veteran's category. He said: "I thought it was a dammed good shoot. The weather was kind and some good targets – one or two nasty ones, but it has to be like that for the British Open."
The top five in each class and top three in each category make it through to Sunday's final each day. Qualifying alongside Myers in AAA class today was fellow Welsh competitor Richard Hughes (111 ex120), Steven Trout (111), Chris Childerhouse (110) and Sam Green (108).
Ben Cumming, Dan Carpenter and Alf Bartle advanced in the colts' category, while Charlie Monahan, Michael Wolverson and Tom McGregor qualified in juniors, while Steve Brightwell and Steve Williams followed Palmer to progress in the vets' category.
Today's three senior qualifiers were Eric Weston, Phil Smith and Jack Lovick. The three ladies who secured their places in Sunday's final were Janet Galland, Lucy Pitt and Georgia Moule.
After day three of the British Open Sportrap, Paul Foster's outstanding score of 98 ex100 still holds top spot, with only one day left to challenge his score. Likewise, there was no changes to the second and third places with David Hughes Jnr (97 ex100) and Richard Burning's (95 ex100) not bettered by anyone today. The highest scores today came from James Attwood and Martin Myers, who both finished on 93 ex100, placing them in joint sixth position.
Today's British Open English Sporting qualifiers for Sunday's final include:
AAA class: Sam Green, Chris Childerhouse, Steven Trout, Richard Hughes and Martin Myers
AA class: Mike. Jones, Will Fenner, Sam Upton, Ronnie Green and Nick Dean
A Class: Ian Stephenson, Jon Salve Haakedal, Hannah Gibson, Paul Freeman and David Wooley
B Class: SR Hurt, Tim Sayer, James Stott, Graham Perrin and Nadine Gilder
C Class: Ben Whitehouse, David Bullock, Carl Higginson, John Eagleson and Nigel Chambers
Colts: Alf Bartle, Dan Carpenter and Ben Cumming
Juniors: Charlie Monahan, Michael Wolverson and Tom McGregor
Seniors: Eric Weston, Phil Smith and Jack Lovick
Veterans: Steven Williams, Stephen Brightwell and Arnie Palmer
To view the results from Day 4 please click here
For live updates throughout the week, remember to stay up-to-date by following our social media channels via Facebook @cpsauk, Twitter @CPSAuk and Instagram @cpsauk.