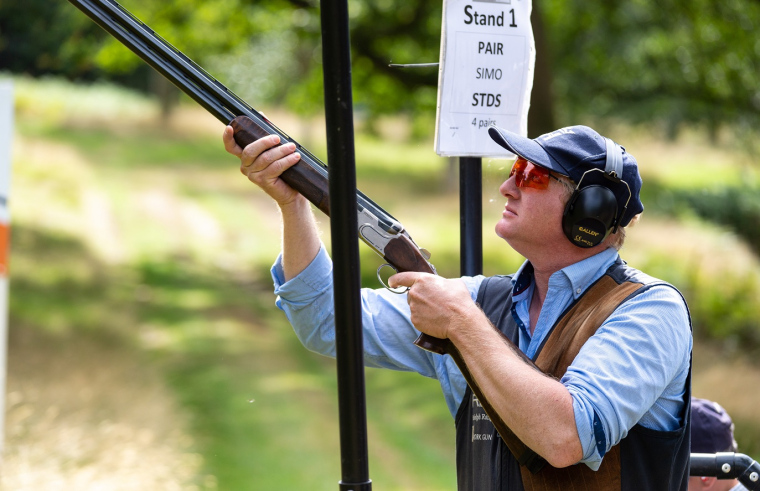 Article
British Open Sporting Day 3 Report
Richard Bunning remains on course for a unique English Sporting hat-trick after doing enough to book his place in Sunday's final on day three of the CPSA British Open at Oakedge Shooting Ground in Staffordshire today.
After winning both the English Open and World titles for English Sporting shooters earlier this year, all eyes were on the left-hander from Norfolk when he stepped up to contest today's qualifying round, but he coped admirably with the extra attention and was "fairly happy" to shoot 109 ex120 and advance to Sunday's 75-target final.
"I found it hard and I was under a bit of pressure because people were watching," said Bunning, whose CPSA World English Sporting Championship triumph earlier this summer was the biggest title of his career. "I haven't been in this position before, so it was difficult. I made one or two mistakes, but I was steady all the way round. Overall, I'm fairly happy. I would have liked two or three more targets, but it has been a good day. I'm relieved it is all over."
With all qualifiers shooting from scratch on Sunday, Bunning and his fellow qualifiers can start afresh and will have plenty to play for when the British Open English Sporting reaches a climax this weekend. He will be joined in the final by fellow AAA Class shooters Martin Elworthy (113 ex 120), Guy Franklin (111), Scott Barnett (109), Paul Foster (108), who also qualified after finishing in the top five at the end of today's 120-target test. The top five in each class and the best three in each category today made it through to Sunday's final.
Ami Hedgecock, Darcy McBride and Travis Durrent progressed in the colts' category, while Glen Moore, John Stanton and Peter Jarvis did likewise in the vets' section. Today's three senior qualifiers were Joakim Smith, Scott Greenwood and Nick Hendrick.
The three juniors who secured a place in Sunday's final today were Matt Peddle, Billy Davis and Thomas Woodcock, while Linda Pearson, Helen McKenna and Stephanie Meachan were the successful ladies.
In the British Open Sportrap, meanwhile, Foster moved to the top of the standings with an impressive score of 98 ex 100, one ahead of David Hughes Jnr. Burning and Elworthy moved into joint third on 95 ex 100, with yesterday's top scorer, Henry Arnold, dropping to fifth.
Today's British Open English Sporting qualifiers for Sunday's final:
AAA class: Martin Elworthy (113 ex 120), Guy Franklin (111), Richard Bunning (109), Scott Barnett (109) & Paul Foster (108)
AA class: Taylor Hedgecock (pictured), Timothy Howell, Garry Davies, Brewis Gair & Rob Claybrook
A Class: Jed Burn, Andrew Beamish, Martin Walsh, Jack Symes & George Howling
B Class: Sven-Martin Tyreng, James Savage, Janet Gornall, Jamie Whitton & John Squire
C Class: John Symes, Luke Russell, Thomas Lowe, Jennifer Hampson & Glenn Halls
Colts: Ami Hedgecock (pictured), Darcy McBride & Travis Durrent
Juniors: Matt Peddle, Billy Davis & Thomas Woodcock (pictured)
Senior: Joakim Smith, Scott Greenwood & Nick Hendrick
Vets: Glen Moore, John Stanton & Peter Jarvis
Ladies: Linda Pearson, Helen McKenna & Stephanie Meachan (pictured)
Disabled standing: Adrian Last
Disabled sitting: Sam Nunn
For live updates throughout the week, remember to stay up-to-date by following our social media channels via Facebook @cpsauk, Twitter @CPSAuk and Instagram @cpsauk.