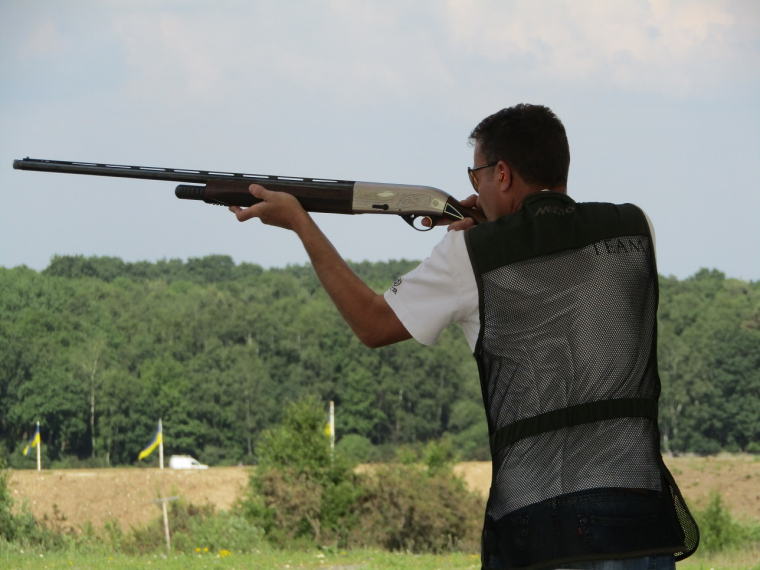 Article
David Morgan Crowned English Open English Skeet Champion
David Morgan was crowned the 2018 English Open English Skeet champion at the National Clay Shooting Centre, Bisley on Sunday afternoon.
With six shooters scoring 100 straight across the three days of the competition which started on Friday, it made for an exciting afternoon in the sweltering heat on the Sunday, as David kept his cool to pip 18-year-old Tom McGregor to the title.
David and Tom were joined by Martin Elworthy, Richard King, Stephen Leppington and Jonathan Hall on 100, with only Jonathan not returning for the shoot-off. After an additional round of 25, only David and Tom continued to maintain a 100% record, resulting in a sudden death shoot-off, with David emerging victorious.
Martin Elworthy saw off Stephen Leppington in an equally tight battle for third place, leaving Stephen to take first in AA class, followed by Richard King. As the only non AA shooter to score 100 straight, Jonathan Hall topped the A class honours.
Despite just missing out on the title, Tom still walked away with the Junior honours, ahead of Megan Jones. Following up from her historic victory in the British Open English Skeet last year, Megan shot 99 to finish behind Tom, but that still saw her win the Ladies title and take third in A class.
14-year-old Ross Lester shot an impressive 99 to earn a comfortable victory in the Colts category, finishing four points ahead of Sonny Bowman and Archie Pope. It left Sonny and Archie to shoot-off for the runner-up spot in Colts and the C class honours. With both shooting 23ex25 in the shoot-off, it went to sudden death and Sonny came out on top.
To view the full results, please click here.