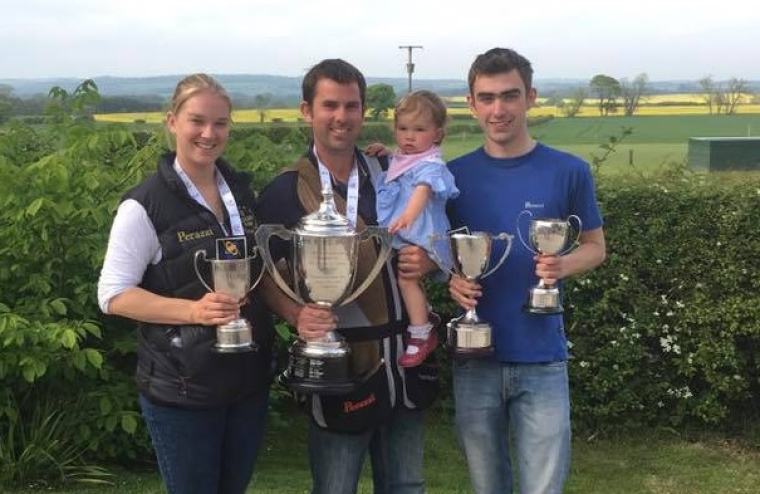 Article
Ed Ling Wins English Open ABT in Emphatic Style
Ed Ling shot a stunning 200 straight to win the English Open ABT at Bywell Shooting Ground on Sunday afternoon (20 May).
The rest of the field could only watch on, as Ed put in a ruthless performance and completed an astonishing 200 straight. Tony Coulstock finished runner-up on 197 and Cameron Hay held his nerve in a shoot off to finish third after scoring 196.
Abbey Ling retained her Ladies title, shooting 189 for the second successive year in the competition to finish three points ahead of Mary Rowley, whilst Theo shot an unrivalled 195 to comfortably earn the Junior title.
However, Ed and Theo's father Steve was narrowly denied in the Veteran category to prevent a clean sweep for the Ling family on the day. Steve's score of 193 was beaten by Nigel Collis on 194 who walked away with the Veteran honours.
It was equally close in the Colts category as Corey Doble shot 182 to finish one point ahead of Lucy Hall to claim victory.
To view the full results from the English Open ABT please see below:
| | | | | |
| --- | --- | --- | --- | --- |
| | NAME OF WINNER | CPSA NO | SCORE ex 200 | S/O RES.* |
| HIGH GUN | Ed Ling | EE 120 | 200 | |
| RUNNER UP OF MATCH | Tony Coulstock | EE 107036 | 197 | |
| THIRD OVERALL | Cameron Hay | SS 3309 | 196 | 25 |
| CLASS A | | | | |
| 1ST | Jack Thompson | EE 108838 | 196 | 24 |
| CLASS B | | | | |
| 1ST | Nigel Collis | EE 117472 | 194 | |
| CLASS C | | | | |
| 1ST | Theo Ling | EE 121186 | 195 | |
| CLASS D | | | | |
| 1ST | Mary Rowley | EE 32000 | 186 | |
| LADIES HIGH GUN | Abbey Ling | EE 103899 | 189 | |
| 2ND | Mary Rowley | EE 32000 | 186 | |
| 3RD | Kath Bright | EE 124538 | 185 | |
| JUNIOR HIGH GUN | Theo Ling | EE 121186 | 195 | |
| 2ND | Ryan Askam | EE 136127 | 185 | |
| 3RD | James Tate | EE 126341 | 180 | |
| VETERAN HIGH GUN | Nigel Collis | EE 117472 | 194 | |
| 2ND | Steve Ling | EE 31535 | 193 | |
| 3RD | Joey Jones | EE 2745 | 192 | |
| COLTS HIGH GUN | Corey Doble | EE 134655 | 182 | |
| 2ND | Lucy Hall | EE 132017 | 181 | |
| 3RD | not contested | | | |
| DISABLED STANDING HG | Steve Ling | EE 31535 | 182 | |
| 2ND | Mark Delf | EE 132851 | 189 | |
| 3RD | not contested | | | |
| REGIONAL SENIORS | NORTH | | | |
| REGIONAL LADIES | EAST MIDLANDS | | | |
| REGIONAL JUNIORS | NORTH | | | |
| REGIONAL VETERANS | EAST MIDLANDS | | | |