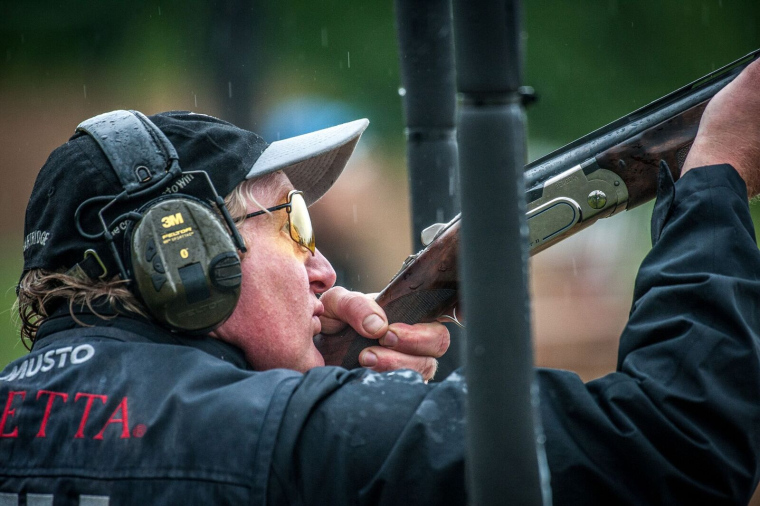 Article
Richard Bunning Crowned 2018 English Open English Sporting Champion
Richard Bunning was crowned the 2018 English Open English Sporting champion after a closely contested Super Final at Atkin Grant & Lang on Saturday evening.
Earlier in the day James Attwood shot a magnificent 114ex120 to give him a four shot lead heading into the six man Super Final.
David Gooding and Martin Myers also shot during the day on Saturday and joined a cluster of shooters on 107, forcing a five way shoot-off for four places in the Super Final. Nick Hendrick was the unlucky man who lost out in the shoot-off which went right the way to sudden death - a disappointing return for Nick who carded the first 107 of the week on Tuesday.
That left James with a four point advantage over Richard heading into the final, with David, Martin, Paul Simpson and John Lee a further three points behind. The final six then took on another 30 targets split between three stands.
Coming off the first stand Richard had halved James' advantage to two points, but it was the second stand which proved decisive. Richard shot a six, whilst James only managed a three - handing the initiative over to Richard. Both shot a nine on the final stand, giving Richard the title on a combined score of 132 to James' 131. Martin Myers picked up the pieces in third place on 127.
Paul Simpson took the AAA title ahead of John Lee and David Gooding walked away with the AA title.
There were three shooters tied on 95 at the top of B class, which led to an entertaining shoot-off where Stephen Harrup emerged victorious scoring nine out of ten, ahead of Ricky McArthur with eight and Glen Goldthorpe took third place after scoring five.
It was equally close in A class where Jason Taylor shot a 102 to take the honours by one point ahead of Paul Dobson and Dave Rollason finished a further point behind in third.
It wasn't so close in C class where a strong performance from Matthew Newman shooting a 93 saw him comfortably win the class honours.
Elsewhere, Jamie Gutteridge became only the third shooter of the week to straight Stand 11 as he went round the course in 106 on Saturday. Having missed out on a shoot-off for the Super Final by one point, Jamie still took second place in AA class and the Disabled Standing high gun. Adrian Last retained his Disabled Sitting high gun shooting 86 to finish seven clear of John Harrison on 79.
It was a similar scenario for Carl Bloxham. Having shot a 106 in difficult conditions on Friday, Carl took the Veterans title as consolation to just missing out on the 107 benchmark.
Henry Collins claimed the Junior title, having tied with Josh Bridges on 102, Henry took the honours by default, with Tom McGregor in third.
It was a successful week for Emma Stacey. Her score of 96 saw her take second in Ladies, one shy of Cheryl Hall's score for high gun. Emma did however walk away with the Lady Junior high gun and won the Parent & Child category with her dad Shaun.
Annalise Evans won the Lady Colt High Gun on 86, which was also enough to see her take third in the Colt category behind Craig Hollick and Tristan Hockey who shot a 90 to earn victory in the category.
To view the full scores from the 2018 English Open, click here.