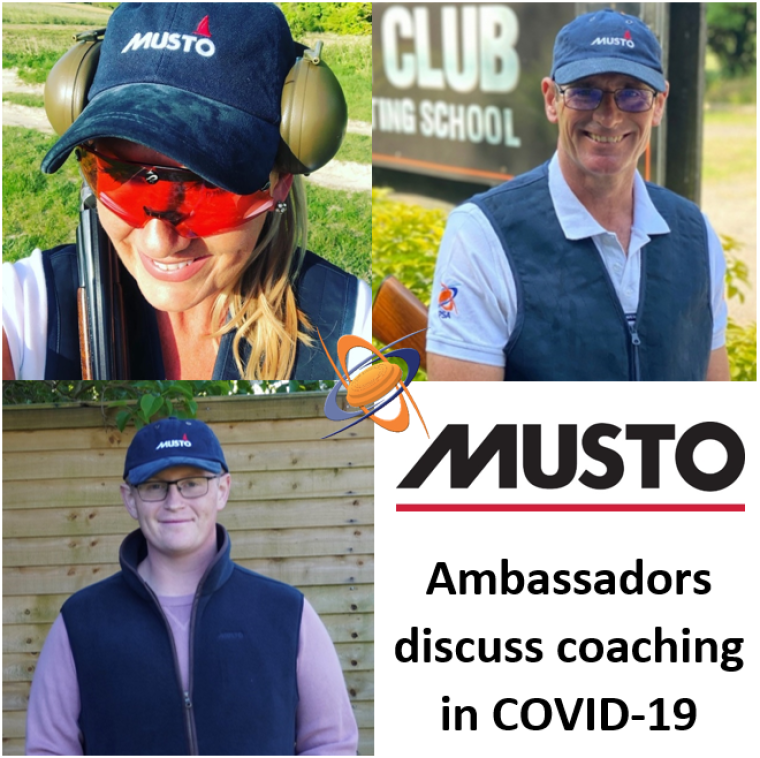 Article
Coaching in Covid – an Update from the Musto Ambassadors
Coaching in Covid – an Update from the Musto Ambassadors
Musto has been a valued partner of the CPSA for some time now, supporting CPSA events, Championships, and the membership in many ways. A new initiative brought in at the start of 2020 was the invitation to CPSA Coaches and Instructors to join Team Musto as Musto Ambassadors. Musto already ran this program for their partners in sailing and riding, but this would be the first of its kind for shooting; it was a wonderful opportunity to be able to offer this exclusively to our CPSA qualified Coaches and Instructors.
In February of this year, we received numerous applications to be considered for these new and prestigious positions. After a few weeks of deliberating between all the submissions, Musto selected their chosen Ambassadors. We were delighted to announce that Simon Arbuckle, Mhairi-Ann Troup, and Max Tarr were offered the positions to represent Musto as the first three Ambassadors for clay shooting.
Sadly, a week later the pandemic took hold, events were postponed, and lockdown commenced. With the country coming to a near standstill, so too did the plans for the Ambassadors, as well as the many plans in the CPSA calendar which were pushed back to
2021. Although this article comes as we settle into our second lockdown and shooting has to cease once again, we managed to catch up with Simon, Mhairi-Ann, and Max to discuss what they have been up to over the last few months since their Ambassador positions were announced.

What has been your experience of coaching since grounds were able to open at the easing of lockdown in May?
Max - "It hasn't been too torturous teaching during the pandemic, we've kept our distance and sanitised everything possible, and taken every precaution. My regular clients were itching to get out which was very fortunate. The beginner/novice tuition has obviously taken a hit due to the fact we were not able to be within a certain distance, but I am extremely confident we will come back strong in 2021"
Simon - "Initially there were only lessons for experienced shooters with their own guns. This was to enable me to stand back and observe and ensure that I didn't have to get close as is the case with novices, where control is very important. Gradually restrictions were eased around July and teaching novices was possible with recommenced masks or face shields and gloves. These have in fact become the norm, as has wiping down guns with disinfectant wipes. It was a slow start but now people are becoming used to using the COVID PPE but care still has to be taken"
Mhairi-Ann – "Teaching during the COVID pandemic has been challenging, although all clients are totally understanding and patient regarding wiping down guns and the extra time needed between and during lessons."
What are your main plans for the winter season in terms of coaching?
Max - "I'll be game shooting in the winter, also quite a few days loading & Instructing. It is also a time for me to catch up on admin that I've neglected throughout the summer and autumn. I will be busy creating content as well which is going to benefit both novices and beginners in the sport when we are able to start-up again"
Simon – "As I started to write this, the announcement was made regarding a second lockdown but hopefully this will not be extended over the winter season. Lessons had been steadily increasing to the point where I was booked up several weeks in advance, a combination of new shooters learning from scratch, experienced shooters, and the regulars. One thing I have noticed was fewer game shots having tower lessons compared to previous years, indicative I think of fewer people shooting game this season due to the social restrictions on shoots.
Christmas can be one of the busiest periods at the ground especially if the weather is good, lessons continue and often I see an increase in children trying it or having lessons whilst off school. I'm trying to encourage more clients to try competitions, both ESP and FITASC, if only to get over the hurdle of doing their first one and realise that the targets they've been shooting in the lessons are the same standard as competition".
Mhairi-Ann – "My plan for this winter season is simply to catch up with all lessons and taster sessions put back by the latest lockdown and continue the exciting success of Dynamic Ladies Shooting Club."
Over the last few months, have you made any significant changes with your coaching or managed to spend some time on your own shooting?
Max – "During 2020 I've shot more than I've ever done, competing in 29 CPSA registered shoots since lockdown has ended in June which has been great, and 33 in total since October 2019. I am currently in A-class with aspirations to get into AA, I'm extremely happy with how I'm performing, and I'm looking forward to 2021. I plan on taking on bigger competitions next year and will see how I fare with the more difficult targets.
I've also recently sponsored 6 youngsters aged 11-18,providing tuition, cartridges, and Musto clothing, so that occupies a large proportion of my time, but I wouldn't change it, it's incredibly rewarding and it's amazing to watch them grow. I have my own British Shooting Talent Pathway group, in which we focus on the fundamentals of shooting and work on the Olympic disciplines. I was also approached by Southampton University to help them improve and hopefully let them compete in the university shooting scene which I'm extremely excited to help with"

Simon – "During the first lockdown I was furloughed for the three months whilst Southdown was closed. Since reopening it has been only for three days a week, meaning I get the ground ready on the Thursday and coach or referee for the next three. This has enabled me, for the first time in years, to be able to get out to shooting competitions, both sporting and FITASC; as well as attending other grounds, helped by the fact that there are a lot more mid-week shoots nowadays. It's nice to go to another ground just as a shooter and not have to worry about traps and batteries or being called on the radio.
I personally like the way shooting is done now with everyone squadded and with set start time both as a shooter and from a ground manager's perspective. People get round the course in a set time, there is rarely any queueing and it's easier on the ground staff filling the traps. Talking to shooters at Southdown, a lot of them prefer it as well and would like it to stay this way"
Mhairi-Ann – "We have been limited to three days a week at the shooting ground and with the seasonal weather coming in, any time on the range has been precious. This means all my time is devoted to lessons and I currently do not get any time to shoot by myself.
However, I am thrilled to have launched the Dynamic Ladies Shooting Club, based predominantly at Southdown Gun Club in Findon. We are a club exclusively for women of all abilities, starting from the age of 12. Shooting grounds can be intimidating, testosterone-fuelled places and a lot of women don't feel comfortable going. This is particularly true of beginners, a lot of whom suggesting they would rather go with a group of other ladies. The club offers an opportunity for ladies to get into the sport, in a way that makes them feel comfortable and relaxed.
Whether you want to try something new and exciting, or push your shooting on to the next level, I can guarantee fun and engaging sessions - either one-to-one or as part of a group. This club is not just about the shooting, it also provides a platform for the ladies to network and socialise and each month they receive exclusive offers from other local small businesses"
Do you have any advice for shooters and coaches during this time?
Max – "We have so many coaches at every level, and at the entry-level of instruction I do not think we are doing enough to identify the initial problems that will benefit the people that we're instructing and make it a more enjoyable experience. Whether that be correctly diagnosing eye dominance or finding a gun that better fits the client, there is a lot of misdiagnosis surrounding a gun that doesn't fit correctly, causing the opposite eye to come into play, meaning they are labelled as left/right eye dominant and told to close an eye forever; or making sure the gun is in the correct place in the shoulder and they're holding it correctly. The list goes on. These things only take a matter of minutes, I understand that when instructing we are under certain time restraints but your clients will appreciate the attention to detail initially and it'll guarantee a better experience, meaning they are more likely to come back and also recommend you.
My advice to shooters from my own personal experience this year, is that if you don't feel like shooting, please don't force it, it won't be beneficial whatsoever, and it'll be a detriment to your mindset. There is no harm in taking breaks and just focusing on other things and then coming back with a fresh mind."
Simon – "In this current climate it is very easy to get complacent with personal safety. As coaches and instructors, we have a duty of care to our clients and ourselves, so it's very important that we remember all the precautions that have been introduced and adhere to them. We are in the public's eye whilst we work at the grounds, no one wants to be seen putting themselves or others at risk.
During the winter closed competition season, it is the time to try new guns, cartridges, clothing, and techniques before the 2021 competition season starts. Over the season it's important to maintain muscle memory so even if you're not shooting as much, regular dry mounting is very beneficial. And why not try some different disciplines for fun?"
Mhairi-Ann – "I would ask other coaches, particularly females, to take inspiration from the fact that every woman I have taken for a taster session has been inspired to join Dynamic Ladies Shooting Club and go shooting again.
My advice for other coaches is to make the client's experience fun. It is possible to have laughter and a happy enthusiastic vibe, whilst still maintaining the high level of professionalism and safety. Too many coaches slip into the same old mundane routine with each lesson, so try to keep varying things for each of your clients"
Finally, Simon had some wise Ambassador words:
"Over the year since being selected as a CPSA/Musto ambassador I have been trying out various Musto products as coaching and shooting clothing, it was most unfortunate that lockdown came in just as I received a cap, gilet, and skeet vest. The cap and gilet came in very handy and the skeet vest is now embroidered with the Southdown logo and in regular use. I also bought several different types of their polo shirts to test out when shooting in the glorious weather we had and for durability, as I wear them as daily 'uniform'. A lucky spontaneous purchase of a new waterproof jacket and Goretex over trousers proved to be a great decision and have had some severe testing in torrential downpours as the weather has changed!
Even though this year been massively disruptive, shooting has continued. Musto produce some excellent clothing and I've had the chance to test it in various weather conditions from very hot to very wet...so far I'm highly impressed and would recommend anyone to try it."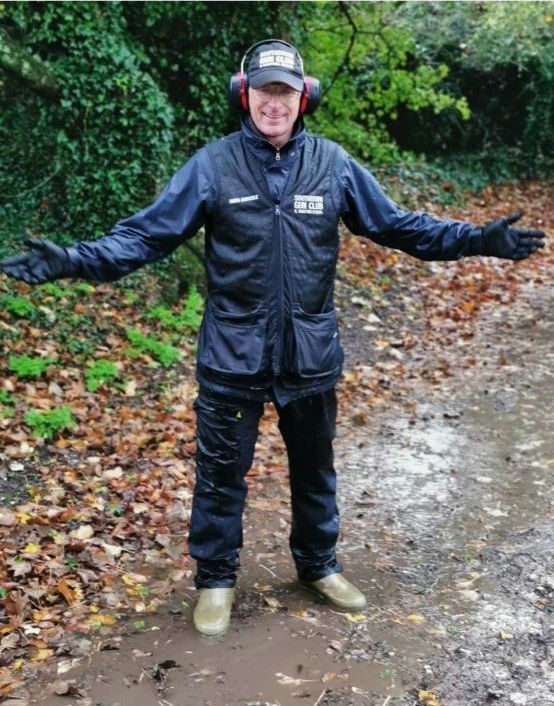 Thank you to Max, Mhairi-Ann and Simon for their time and comments.
If you would like to know more about coaching during Covid, please see CPSA guidance here.