Article
Team Southdown crowned 2019 Premier League winners
The 2019 Premier League final took place on Saturday 7th September at Sporting Targets who put on a great round of targets set over 13 stands so many thanks to Andrew, John & the team for hosting us.
Firstly, congratulations to David Gooding and Sporting Targets shooter Andrew Clifton who shared the High Gun title on the day with 97 ex 100 with Owls Lodge shooter Neil Lockton in third place on 95 ex 100.
From a team perspective, Cambridge achieved the highest top ten score at the shoot with 897 ex 1,000 just 2 points ahead of Team Southdown on 895 ex 1,000 so well done to their team for continuing to fight Southdown all the way to the end!
So, after a hard fought 10 leg series, primarily contested between the 2018 Champions Cambridge Gun Club, Southdown Gun Club and Owls Lodge Shooting School, Southdown emerged as the overall Champions with a best 5 score of 4,617 ex 5,000 just 28 clays ahead of Team Cambridge on 4,589 so huge congratulations to them on a well deserved win and securing the brand new Promatic trap as their prize.
Individually, the top 3 spots were also hotly contested between Owls Lodge Shooter Neil Lockton, Southdown's Chris Childerhouse and Highwaymans Joe Norman with Neil emerging victorious as Overall High Gun with a best 5 total of 483 ex 500, just 5 clays ahead of Chris on 478 ex 500 who was only 1 clay ahead of Joe on 477 ex 500 with his A Class handicap applied.
Huge congratulations to Neil who was rightly overjoyed at the win, taking home a brand new Browning 725 Black Edition Sporter, £1,000 prize money, £565 Pilla Voucher from Sunglasses for Sport & 750 Gamebore White Gold Cartridges.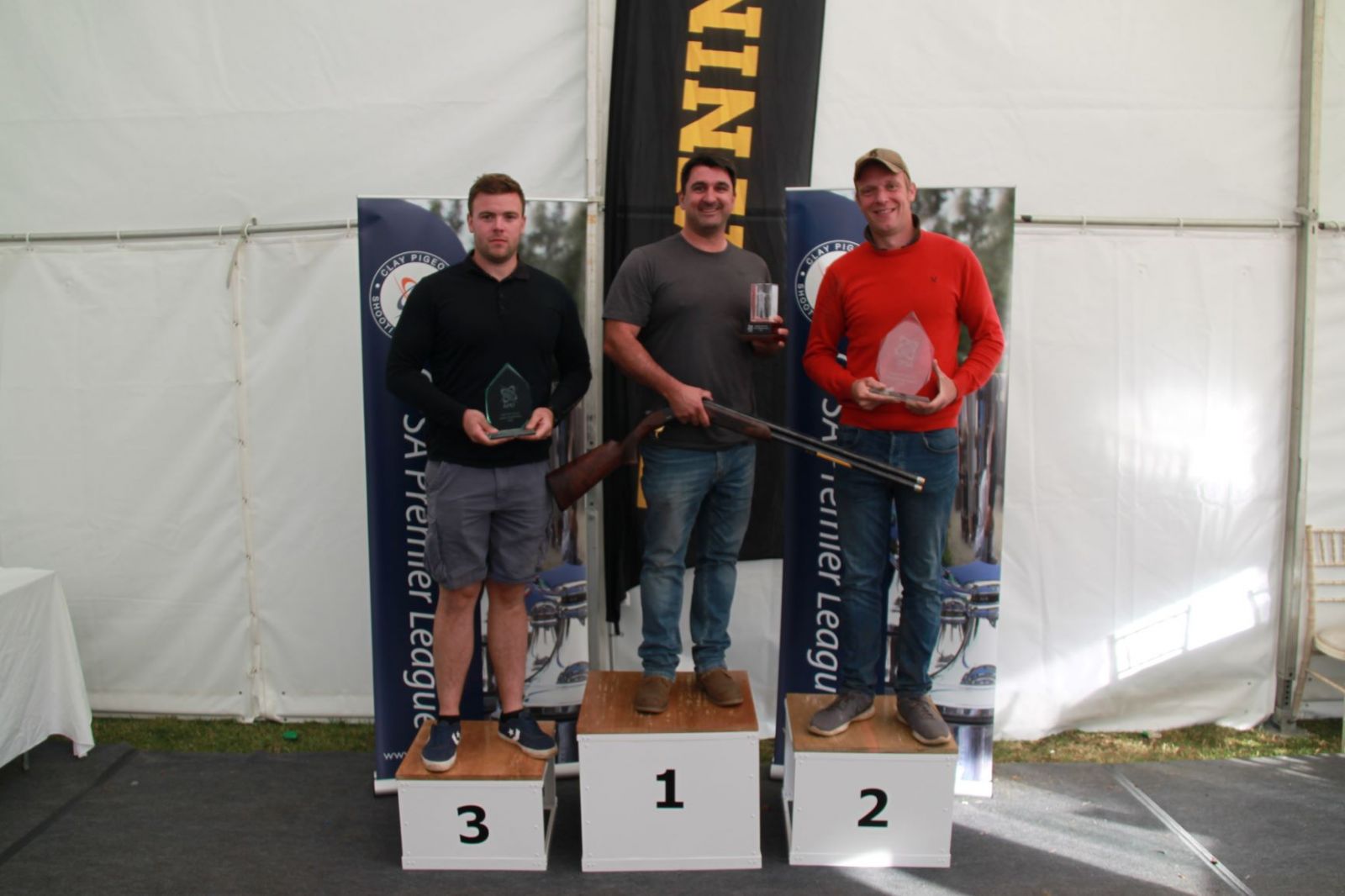 L-R Joe Norman, Neil Lockton & Chris Childerhouse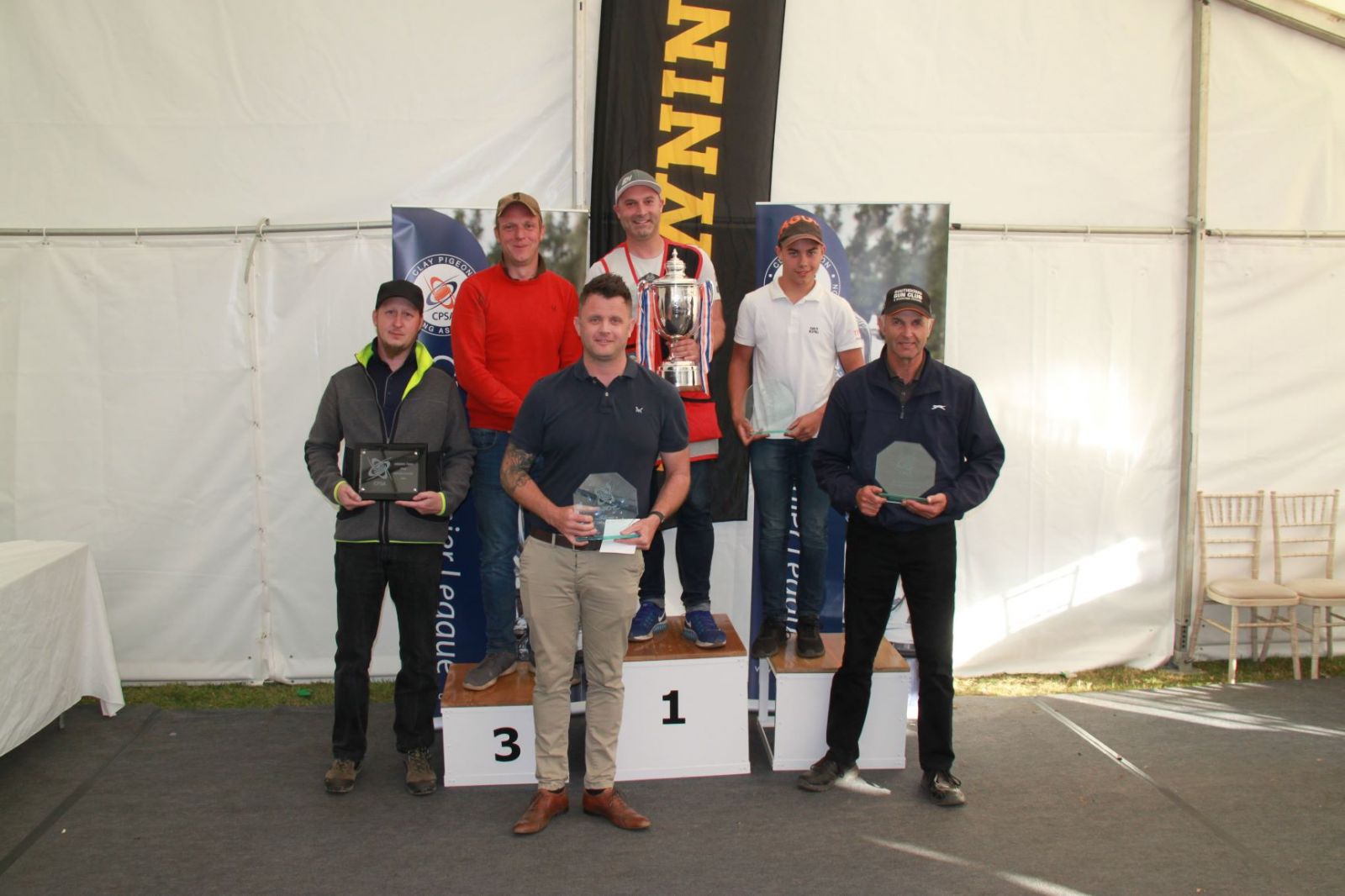 Team Southdown (some of them!)
Please see below for the top 3 positions overall and in Class & Category.
| | | | |
| --- | --- | --- | --- |
| Place | Name | CPSA No. | Score |
| Overall | | | |
| High Gun | Neil Lockton | 98171 | 483 ex 500 |
| Runner Up | Chris Childerhouse | 96439 | 478 ex 500 |
| Third | Joe Norman | 110200 | 477 ex 500 |
| | | | |
| AA Class | | | |
| 1st | Kevin Howland | 36413 | 469 ex 500 |
| Runner Up | Phil Easeman | 91579 | 463 ex 500 |
| Third | Taylor Hedgecock | 116977 | 455 ex 500 |
| | | | |
| A Class | | | |
| 1st | Neil Gaff | 135533 | 470 ex 500 |
| Runner Up | Elliot Raymond | 136148 | 468 ex 500 |
| Third | Matt Peddle | 125843 | 467 ex 500 |
| | | | |
| B Class | | | |
| 1st | Ami Hedgecock | 132337 | 467 ex 500 |
| Runner Up | Oliver Raymond | 136620 | 461 ex 500 |
| Third | Janet Galland | 118452 | 457 ex 500 |
| | | | |
| C Class | | | |
| 1st | Peter Skillen | 139783 | 471 ex 500 |
| Runner Up | Rob Middleton | 139411 | 442 ex 500 |
| Third | Martin Warren | 138866 | 424 ex 500 |
| | | | |
| Veterans | | | |
| 1st | Dennis Pettitt | 2009 | 462 ex 500 |
| Runner Up | Janet Galland | 118452 | 457 ex 500 |
| Third | Philip Simpson | 23089 | 451 ex 500 |
| | | | |
| Ladies | | | |
| 1st | Ami Hedgecock | 132337 | 467 ex 500 |
| Runner Up | Janet Galland | 118452 | 457 ex 500 |
| Third | Jane Bennett | 1969 | 453 ex 500 |
| | | | |
| Juniors | | | |
| 1st | Matt Peddle | 125843 | 467 ex 500 |
| Runner Up | Charlie Soanes | 127102 | 457 ex 500 |
| Third | Taylor Hedgecock | 116977 | 455 ex 500 |
| | | | |
| Colts | | | |
| 1st | Ami Hedgecock | 132337 | 467 ex 500 |
| Runner Up | Daniel King | 135536 | 454 ex 500 |
| Third | Rhys Plum | 135106 | 440 ex 500 |
| | | | |
| Overall Winning Team | Southdown Gun Club | | 4617 ex 5000 |
| Runner Up | Cambridge Gun Club | | 4589 ex 5000 |
| Third | Owls Lodge Shooting School | | 4472 ex 5000 |
We are holding the following Trophies at CPSA HQ which weren't collected at the presentations:
AA Class 2nd: Phil Easeman - trophy + £150 cheque
C Class Runner Up: Rob Middleton - trophy + £150 cheque
C Class 3rd: Martin Warren - trophy + £100 cheque
Ladies High Gun: Ami Hedgecock - trophy + 250 cartridges
Colts High Gun: Ami Hedgecock - trophy + 250 cartridges
Colt Runner Up: Daniel King - trophy
Congratulations to all of our winners and thank you to all who took part in the 2019 series. To view the full results, click here
Lastly, I would like to take this opportunity to thank all of our generous sponsors Browning, Gamebore, Promatic and Sunglasses for Sport for their support once again: