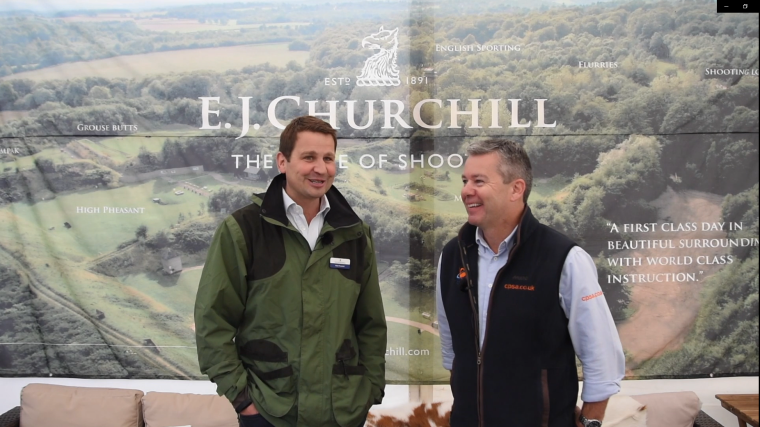 Article
E.J. Churchill's to Host 2020 CPSA World English Sporting Championships
Bisley, 30 July 2019 – The CPSA has announced today that the Clay Pigeon Shooting Association (CPSA) World English Sporting and Sportrap Championships will return to the world-famous E.J. Churchill Shooting Ground, having last been hosted there in 2018 to great acclaim. An announcement video was filmed at E.J. Churchill's stand at The Game Fair, featuring E.J. Churchill's Managing Director Rob Fenwick, and CPSA CEO Iain Parker, which is available from producers Gunroom.tv and on the CPSA website (cpsa.co.uk/WESP2020).
The Championships will take place from 8-14 June 2020 and will include two world championships, one each for the disciplines of English Sporting and Sportrap. The event alternates every year between the CPSA in England and the National Sporting Clays Association in the USA. It attracts competitors from all over the world and is open to shooters of all levels.
E.J. Churchill Shooting Ground is part of West Wycombe Estate, the ancestral seat of the Dashwood baronets which is owned by Sir Edward Dashwood. This grand English estate gives the event a unique feeling of British tradition that is an additional draw for competitors.
Regarding the announcement, CPSA CEO Iain Parker stated 'I'm happy to announce that E.J. Churchill's have agreed to host our CPSA World English Sporting and Sportrap Championships 2020. My thanks to Sir Edward and Rob for inviting us back and I look forward to working on, developing, and delivering the 2020 CPSA Championships together.'
'The West Wycombe estate offers a unique setting with endless opportunities for the course setters and with E.J. Churchill's ground and clubhouse it is the perfect location for our World Championships.'
Musto and Gamebore will be sponsoring the championships. The English Sporting course will be set by George Digweed MBE, 26-time World Champion clay shooter, and the Sportrap by Sean Bramley. Over 1500 shooters are expected to compete, from an estimated 25 countries.
The World English Sporting Championships will consist of 200 targets. In addition to the two world championships, a preliminary English Sporting course and a FITASC Sporting course will also run during the event.