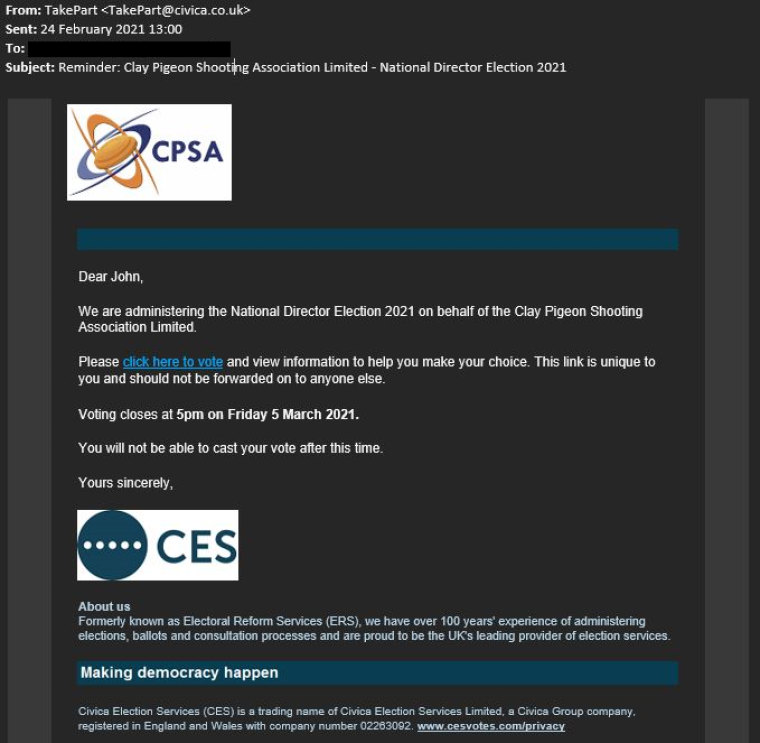 Article
2021 National Director Election 
Have you voted in our 2021 National Director Election yet?

You will have received a reminder email this week (24th February) if you had not yet had the opportunity to vote in the election. This email was sent from Civica Election Services (CES), 'takepart@civica.co.uk', who are managing the secure voting process on our behalf.
This contested position of National Director is between (in alphabetical order) John Lucy and Carl Smith. Details of their profiles can be seen when you select the link in the email to vote.
Please see an example of the reminder email above. If you can't find the email, please check your spam folder or search for it using search terms such as 'National Director Election 2021', 'Clay Pigeon Shooting Association Limited', or 'CES'.
For online help and to read FAQs from CES on the voting process, please click here.

Please take part if you can and remember that voting closes on Friday 5th March 2021.
CPSA HQ
25th February 2021.