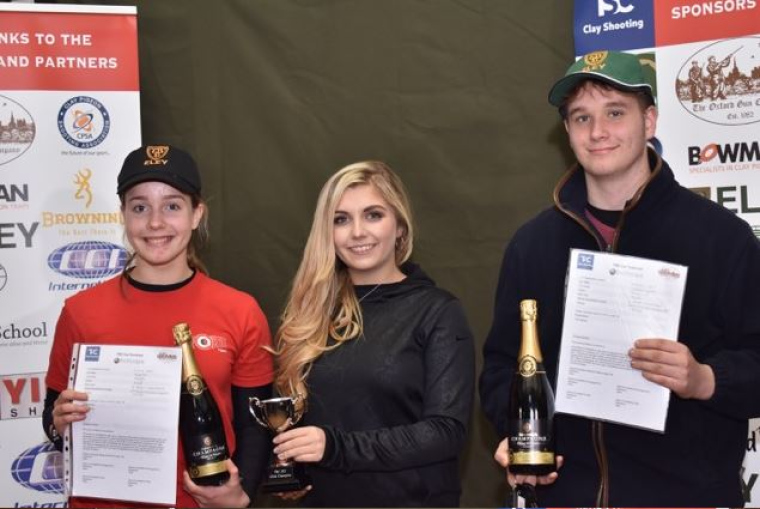 Article
Ami Headgecock & Will Weaver Claim Glory at The Schools Challenge Grand Final
Ami Hedgecock made history as a 13-year-old, becoming the first female to win a car in clay shooting!
The weather was cold and crisp but it proved to be a fantastic day for Ami and Will Weaver who both won cars in the TSC (The Schools Challenge) Grand Final 2017 at Oxford Gun Company on Saturday 9 December.
The qualifying rounds were a closesly fought affair to decide the top five finalists in both the girls and boys categories. In the girls category Ami, Isabella Walters, Kirstin Vogel, Naomi Chapman and Olivia Lowe all qualified for the top five. The scores were extremely close with Naomi falling one point short with 16 ex 20 in the super final. Ami just got the better of her with a fantastic 17 ex 20 and walked away with a Toyota Aygo.
The boys followed with Albert Williams, Chris Orchard, Dominic Arkell, Mitchell Brooker-Smith and Will Weaver. After some excellent shooting there was a shoot-off to decide third and fourth place which saw Dominic emerge victorious, followed by a tense shoot-off between Chris and Will to deicde the overall winner. Chris missed out on the top prize by just two clays, leaving Will to claim top spot shooting 17 ex 20 and winning a VW Up in the process.
Olympic shooter Amber Hill, who shot The Schools Challenge a decade ago, returned to the event to present the prizes.