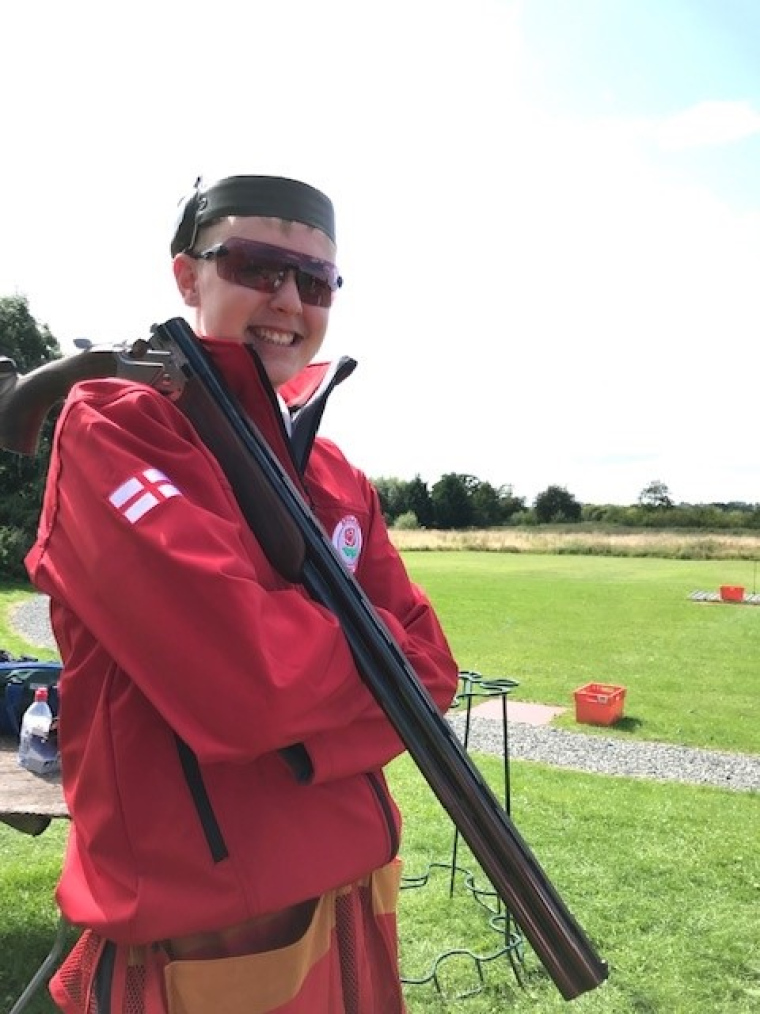 Article
Team Manager's Report for the 46th Olympic Skeet Home International
Thank you to England Olympic Trap Team Manager Dorothy Bird for the following report.
There was a definite buzz at the 46th Olympic Skeet Home International held at Doveridge Clay Sports on 14 August 2021. The event was postponed form last year and it was evident everyone was ready to get going and hit some targets! The most frequently uttered words were "it's good to see you" "It's great to be out again".
Clive and his team did not disappoint - Doveridge looked splendid and the weather played its part too, There were windy conditions for Friday's practice, but it settled down to give near perfect conditions and you just knew some big scores would be coming in.
England had four New Caps in the team: Owen Lewis (pictured), Henry Sperring, Gary Young, and Madeleine Boyd.
Some very strong individual scores were posted by England's shooters, and Overall Team was won by England.
Hugh Westminster finished Runner-up Overall High Gun on 97/100, just two targets behind the Overall High Gun, Wales' Ben Llewellin on 99/100.
England High Gun was Hugh Westminster, Runner-up was Jack Faiclough on 94/100. New Cap High Gun went to Madeleine Boyd on 93/100, with Owen Lewis Runner-up on 92/100.
Madeleine Boyd took the Ladies title on 93/100 with Emily Hibbs Runner-up on 90/100.
Phil Musson took the winners spot for Veterans on 81/100. After a tense shoot-off, Peter Flower on 73/100 was Runner-up for the Super Vets to Scotland's Robbie Grub.
The Ladies, Juniors, Veterans, and Super Veterans Team was won by England's Madeleine Boy, Mitchell Brooker-Smith, Emily Hibbs, Jess Burgess, Nicki Wakeford, Phil Musson, Frank Miller, and Peter Flower.
The team spirit was amazing and it was great to see the support for the new caps and younger shooters, and a huge thank you to the Bramley family for putting on a great event. A very enjoyable evening was had at St George's Park for the banquet and presentation.
Find the full results from the Olympic Skeet Home International here.