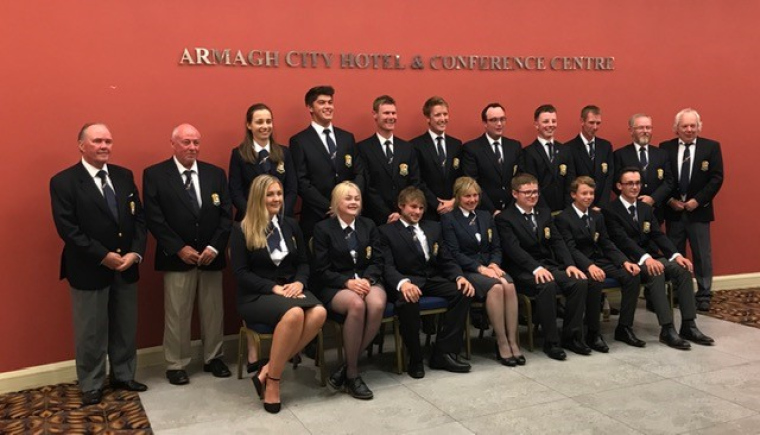 Article
Olympic Skeet Home International Results
Fantastic results from the Olympic Skeet (OSK) Home International held at Dungannon CPC on 10 August 2019.
With only two ranges being used & a horrendous weather forecast it was going to be a challenging day!
However with the typical steely determination of OSK shooters neither the length of the day nor the weather conditions was going to stop the England Team posting some incredible scores.
Overall High Gun went to Team Captain Jeremy Bird with a score of 99/100. Runner-up was Emily Hibbs close behind on 97/100
England Team runner-up was Andrew Lea with a score of 95/100.
Ladies High Gun Emily Hibbs with Lara Dale runner up.

Junior High Gun went to Mitchell Brooker-Smith 95/100.
Veteran Lee Bowditch was delighted with his solid score of 92/100. David Maddox was Runner-up.
In Super Vets, Frank Miller took Runner-up.
The Ladies, Juniors, Vets, and Super Vets team titles went to England.
Some new trophies were awarded to Team England this year-
Overall Ladies Team - Emily Hibbs/ Lara Dale
Overall Junior Team - Mitchell Brooker-Smith/ Edward Medforth
Overall Veteran Team - Lee Bowditch/David Maddox
Overall Super Veterans- Frank Miller/ Jonathan Davidson.
England had three New Caps this year: Jessica Burgess, Hugh Westminster, and Andrew Payne, who at 14 was the youngest competitor at the Home International. Hugh took the New Cap High Gun badge.
A tremendous team spirit by all the teams made for a fantastic atmosphere that got everyone through a challenging day with smiles on faces. The Banquet rounded off the day with a well deserved celebration of their fantastic achievements.
A big thank you to everyone working so hard at Dungannon CPC for a great Home International and the warm welcome we received.
(Thanks to Team Manager Dorothy Bird for this report.)