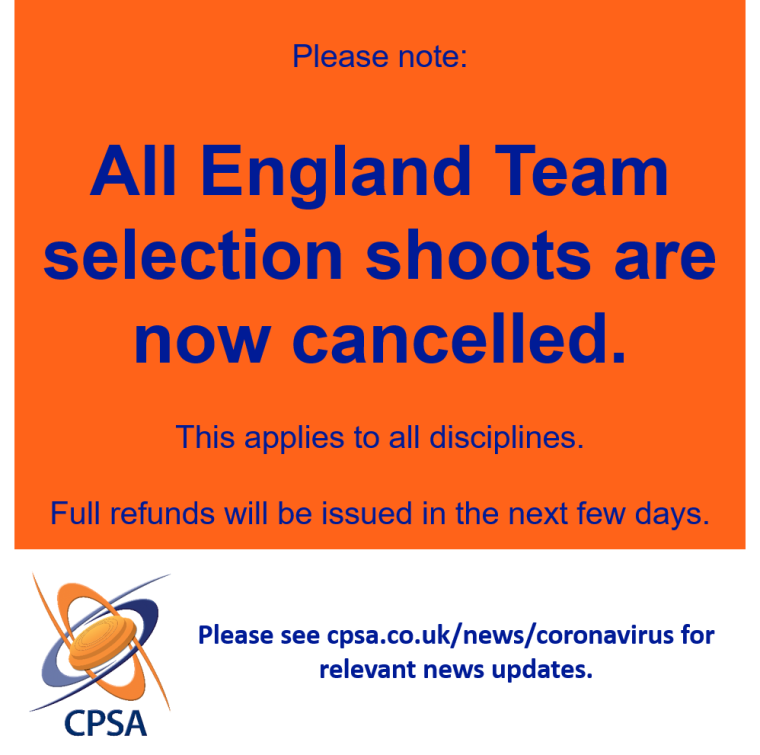 Article
England Team Selection Shoots 2020
Cancellation of all England Team Selection Shoots 2020 for all disciplines.
Due to the coronavirus pandemic it has been decided that all England Team selection shoots, across all disciplines are cancelled with immediate effect. CPSA Regional Committees and Shooting Grounds scheduled to host any England Team selection shoot are in the process of being contacted or have already been notified of this. Full refunds of competition entry fees will be made as soon as possible, in the next few days.
It should be noted that if some selection shoots were able to continue and some not, this is considered unfair, in respect of travel, hotels etc and depending on the area, shut downs, and bearing in mind some members may or may not want to risk attending, despite government advice.
Should the ICTSC be able to continue to host the Home International Tournaments then the CPSA will send teams, if possible. However the method of selecting those teams will be determined by the CPSA Board at a later date, as our normal selection process has been affected by 'force majeure (i.e. we cannot select as we were intending to do). These are exceptional and difficult times everyone is having to deal with on a daily basis, therefore your understanding of changing processes and procedures is appreciated.
CPSA HQ
17th March 2020