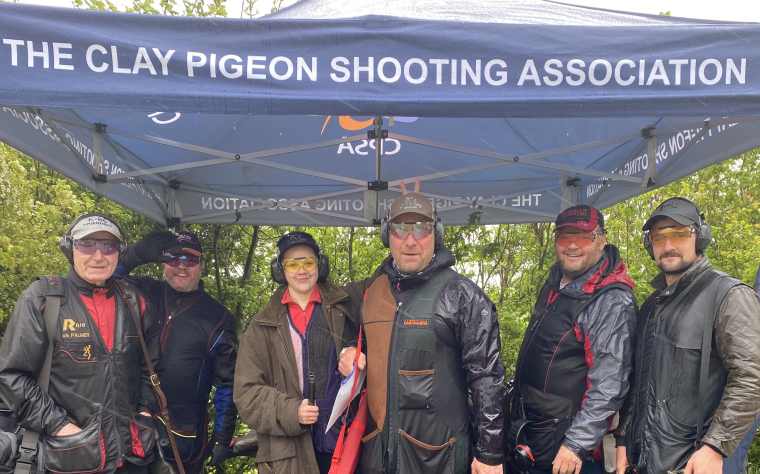 Article
English Open Sporting Day 3
Richard Faulds continues to be the man to catch at the English Open English Sporting as the competition heads into the weekend.
At the start of day three, all the shooters knew the benchmark, but a mixture of deceptive targets and tough changing weather means that Richard Faulds remains top of the pile on 112ex120.
Grey sky and drizzling rain hampered the first few squads on the course on Friday morning at Barbury Shooting School and the scores reflected this. AAA shot Colin Waite in the fourth squad of the day was the first person to register a score of 100ex120, and Richard Wyatt followed with a 95ex120.
The majority of the day continued in similar fashion weather wise. Anything in the 90s appeared to be a relatively good round. AA shot Robert Butters put in a 94ex120 from the first squad, and A shot Jordan Sayer shot 93ex120 an hour later.
At 1pm, Richard King put in a 102ex120 making him the new high score of the day., followed by a 5pm score of 101ex120 from Phil Smith.
Reigning English Open Champion from 2019 Mark Winser set off on his round at 1:30pm to defend his title (there was no English Open Sporting event in 2020 due to CV19 pandemic). At 6pm Mark put in a 104ex120, enough to make him top score of the day, but with current scores over the last few days is unlikely to make it through to the 6-man Super Final taking place on Sunday.
Congratulations to Graham Cotton, David Gale and Ben Malecki who won a set of Teague Chokes, a Musto wash bag and a CPSA goodie bag respectfully, as part of our competitor's raffle.
As new Headline Sponsors of the CPSA this year, as well as of the English Open Championship, Swatcom owner Keith Foote said, "I'm really proud to be involved with this great organisation and event". Swatcom is supplying their new Active8 headsets as a prize for each category High Gun; Keith continued, "It's great to have the opportunity to showcase our range to all the shooters of the event". Swatcom have their new exhibition trailer onsite at Barbury.
B Class shooter Colin Mortimer said "It's been a little bit wet, almost biblical in its wetness…The course has been really enjoyable to shoot, lots of really interesting targets some a little tricky, and some a bit wind affected, but not as badly affected as we thought they might be considering the conditions".
Andrew Clifton, winner of the CPSA Ground of the Year 2020 stated that it was "A great round, let down by the weather. But you can't control that so hey it is what it is".
We are grateful for the generous support of sponsors Rizzini (distributed in the UK by ASI), Eley Cartridges, Swatcom and Musto who have provided guns, cartridges, hearing protection and clothing vouchers respectively as prizes for winners along with addition to the prize fund. We are also grateful for Promatic's support around the ground.
For the full English Open English Sporting scores, they are now available from our new shoot programme upload, found here: www.cpsa.co.uk/championshipscores.
To view the scores from today, please click here . For a breakdown of Class and Category, click here