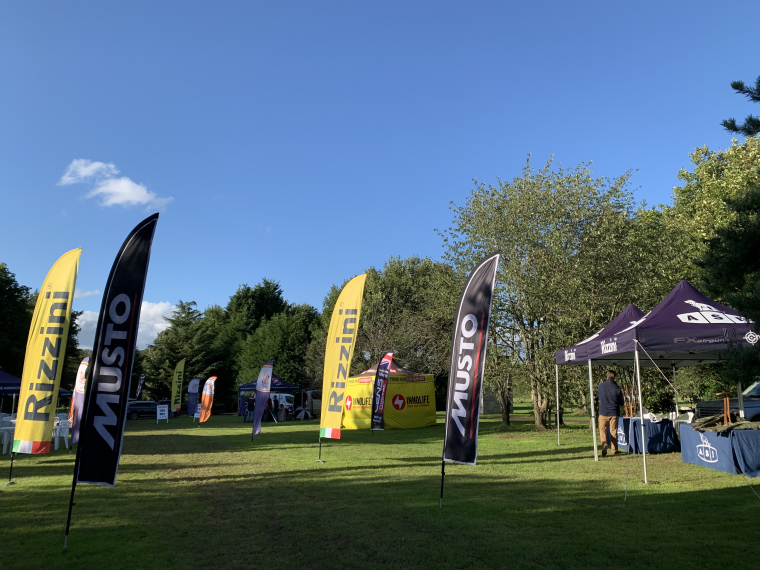 Article
Day 2 Roundup and Results of the CPSA BO ESP & STR
Day 2 of the CPSA British Open English Sporting and Sportrap started drizzle ridden and overcast. Luckily, the sun broke through and the clouds dispersed in the middle of the morning, leaving the day bright and clear for all those shooting, as well as all the staff and referees busy out on the ground, helping things run smoothly.
The Teague Raffle once again launched our morning Instagram story. A live random number generator deciding who won the four prizes on offer today. Well done to the following for their wins: 1st Prize a set of Teague Chokes – A N Moon; 2nd Prize £100 Cens Voucher from Innolife – J Mitchell; 3rd Prize of a Clay Shooting Company Sunday Shoot – S Bubb; and 4th prizes of a CPSA membership for a year – A Swaine and K Patten.
First squads out were cheery, despite the wet start. Paul Foster, CPSA British Open Sportrap 2019 High Gun opened ESP with a 108 ex 120, followed by J Garside with a 102 ex 120; and Richard Bunning, World Champion 2018, with a 112 ex 120 just after. The pace for the day was clearly set. These scores align a lot with what George Digweed spoke about the course yesterday (Day 1 Round-up here)
Dad and Daughter Duo, CPSA Sports Personality Runner-up and CPSA Clay shooter of the Year, Phil and Amy Easeman respectively, enjoyed the brightening day on their round. They both said, "We thoroughly enjoyed it, and there is something for everyone".
Jason Gibson, from Vario, a CPSA trade member and partner, was on one the the last squads round having shot sportrap in the morning - "A really great day on both accounts, although tiring getting around both courses". Teague Sponsor, Ivan Reid also made it around both courses, and we are grateful for his sponsorship of the Raffle mentioned above.
Chris Childerhouse shot a 115 ex 120 today, brining him joint high scorer with J Reed, who shot the same on Day 1. Well done to both
In sportrap, C W Will put in a 92 ex 100 to start the day. Chris Childerhouse followed with a strong score of 96 ex 100 this morning, but was tipped by Colt William page with an amazing 97 ex 100 at midday dropping 3 on only one stand. William commented "I'm happy with the layouts…glad my training is paying off". Today was Colt Paril Sinha, first ever sportrap Major, so a well done to her. Finally, this afternoon J Atwood put in a new high score of 98 ex 120.
The event is made possible thanks to the generous support of sponsors Rizzini (distributed in the UK by ASI), Gamebore and Musto, who have provided a gun, cartridges and clothing vouchers respectively as prizes for winners. We are also grateful for Promatic's support around the ground.
Daily, the top five shooters from each class (AAA, AA, A, B, and C) and the top three from each category (Ladies, Seniors, Veterans, Juniors, Colts, and Disabled Standing and Disabled Sitting) will be invited to shoot the 75-target Final on Sunday. The top six scores from the Final will be invited to the 25-target Super Final on Sunday afternoon.
The following table shows all who have qualified each day, and are therefore invited back to shoot on Sunday for the 75 Sporting Final. Each category will have 2 squads, and each class will make up roughly 3.5 squads.
| | | | | | | | |
| --- | --- | --- | --- | --- | --- | --- | --- |
| | 1 | 2 | 3 | 4 | 5 | 6 | Time |
| Squad 1 | William Page | Finley Bowles | T Durrant | M J Paley | A Bartle | Colt | 09:00 |
| Squad 2 | Colt | Colt | Colt | Colt | Colt | | 09:09 |
| Squad 3 | Matthew Bower | Darcy McBride | Eddie Morris | A Hughes | A Johnston | H Bevan | 09:18 |
| Squad 4 | Junior | Junior | Junior | Junior | Junior | Junior | 09:27 |
| Squad 5 | Annalise Evans | Megan Gamble | Tanya Faulds | Emma Stacey | Amy Easeman | Sarah White | 09:36 |
| Squad 6 | Lady | Lady | Lady | Lady | Lady | Lady | 09:45 |
| Squad 7 | Stuart Clarke | Glen Moore | Mike Harding | P Dickman | R D Heal | T Howell | 09:54 |
| Squad 8 | Veteran | Veteran | Veteran | Veteran | Veteran | Veteran | 10:03 |
| Squad 9 | Richard A Hughes | Adam Curtis | Karl Field | Chris Daniels | Paul Foster | B Hollamby | 10:12 |
| Squad 10 | Senior | Senior | Senior | Senior | Senior | Senior | 10:21 |
| Squad 11 | Paul Bailey | John Harrison | Tony Cox | Simon Bubb | Craig Marlow | | 10:30 |
| Squad 12 | | | | | | | 10:39 |
| Squad 13 | Ghost | Ghost | Ghost | Ghost | Ghost | Ghost | 10:48 |
| Squad 14 | Anthony Cross | Ian Morris | Ray Adams | Roger Grimshaw | William Newman | B Twigger | 10:57 |
| Squad 15 | M Rollason | H Coham | D Varnish | M Bull | C | C | 11:06 |
| Squad 16 | C | C | C | C | C | C | 11:15 |
| Squad 17 | C | C | Peter Hamlin | Rob Johnson | William Marsh | Susan Harwood | 11:24 |
| Squad 18 | Timothy Neill | K Allan | R Hill | D McGovern | P J Armett | F Duffy | 11:33 |
| Squad 19 | B | B | B | B | B | B | 11:42 |
| Squad 20 | B | B | B | B | Glenn Halls | John Kaminski | 11:51 |
| Squad 21 | Tony Lennard | Adam McKeown | Lindon Selfridge | J Johnston | T Francis | B Woodard | 12:00 |
| Squad 22 | M Jones | J M White | A | A | A | A | 12:09 |
| Squad 23 | A | A | A | A | A | A | 12:18 |
| Squad 24 | Joss Read | David Marshall | Kevin Jobling | Mark Fisher | Richard Atkins | S Greenwood | 12:27 |
| Squad 25 | J Garside | A Johnson | C M Smith | P Finney | AA | AA | 12:36 |
| Squad 26 | AA | AA | AA | AA | AA | AA | 12:45 |
| Squad 27 | AA | AA | George Digweed | Huw Stephens | Sam Green | James Bradley-Day | 12:54 |
| Squad 28 | Billy Baughan | Shaun Stacey | Mark Bowes | Chris Biddlecome | Richard Bunning | Chris Childerhouse | 13:03 |
| Squad 29 | AAA | AAA | AAA | AAA | AAA | | 13:12 |
| Squad 30 | AAA | AAA | AAA | AAA | AAA | | 13:21 |