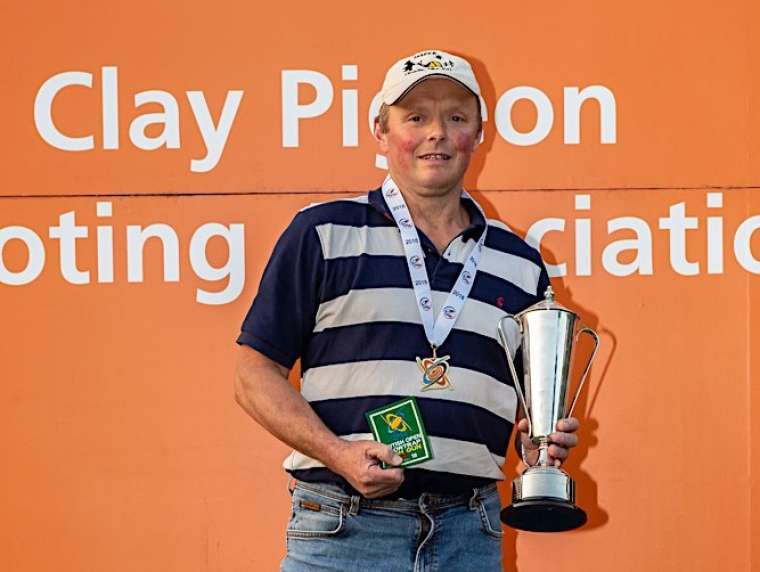 Article
British Open English Sporting Day 5 Report
Doing the double Yorkshireman Paul Foster lifts the title for the British Open Sportrap this evening, making him the only person to hold both the British and English Sportrap titles in the same year. Foster shot an incredible score of 98 ex100 on day two of the competition - a score which has remained untouched the duration of the championship.
The AAA class Sportrap shooter, Foster commented: "It was very good, cause to me it was so special to win the English Sportrap at Bywell in July and now I've done the double with the British. I didn't feel the pressure going into the competition, I was determined." When we asked him how he prepared, he said: "The day before I shot the competition I worked from 5am to 9.30pm, so I was tired."
Shooting the competition on the same day as the champion, Welshman David Hughes Jnr secured the Runner-Up title a mere one-point behind the leader, followed by Neil Lockton who today put in a superb score of 96 ex100 to outright claim third place.
Sadly for fellow Yorkshireman Tim Webster, last year's British Open Sportrap Champion, his score of 85 ex100 on the final day of the competition wasn't quite enough to retain the title, saying his score "was a few light" and "was hoping to hit a few more" but if anything, it was good practice before he shot the British Open Sporting this afternoon.
With Chris Childerhouse, Chip Smith and Graham Stirzaker tied for first in AA class on a score of 91 ex100, it came down to a shoot off between Chris and Chip (with Graham not showing) which Chris emerged victorious from. There was also a shoot off for third in C class between Andrew Price and Stephen Ogden, with Andrew coming out on top.
Congratulations go to all our British Open Sportrap class and category winners as detailed below.
Meanwhile in the British Open Sporting Chris Daniels (AAA shooter) has come out on top on the final day of the qualifiers to secure his place in tomorrow's final. Chris will be joined by Josh Bridges, Billy Baughan,
Matt
Hance
and
Jamie

Gutteridge (all on 106 ex 120
).
Oliver
Keates
,
Archie Pope
and
Alfie
Tibbles
advanced in the colts' category, while
Callum
Hanley
,
Jack
Tromans
and
Charlie
Soanes
qualified in juniors, while
Keith
Hodgkinson
and
Alan
London
followed
Adrian

Balham
to progress in the vets' category.
Today's three senior qualifiers were
Phil
Gray
,
Carson
Revell
and
James
Attwood
. The three ladies who secured their places in Sunday's final were
Cheryl Hall
,
Rebecca
Adlam
and
Kerry Oakley
.
Today's British Open English Sporting qualifiers for Sunday's final include:
AAA class:
Jamie Gutteridge, Matt Hance, Billy Baughan, Josh Bridges, Chris Daniels
AA class:
Shaun Bulcock, Wayne Gibbard, Chip Smith, Stuart Emms, Luke Llewellin
A Class:
Paul Brewster, Samuel Ward, Nigel Gilder, Stephen Clarke, Andrew Clifton
B Class: Elliot Raymond, Mike Cashmore, Keith Wood, Lee Kinght, Gary Tromans
C Class: Seth Groves, Robert Scurr, Neil Hastilow, Jonathan Pittard, George Keys
Colts: Alfie Tibbles, Archie Pope, Oliver Keates
Juniors: Charlie Soanes, Jack Tromans, Callum Hanley
Ladies: Kerry Oakley, Rebecca Adlam, Cheryl Hall
Seniors: James Attwood, Carson Revell, Phil Gray
Veterans: Keith Hodgkinson, Alan London, Adrian Balham,
Disabled standing: Paul Briggs
To view the full results from the British Open Sportrap
click here
To view the results from Day 5 of the Sporting please click here
For live updates throughout the week, remember to stay up-to-date by following our social media channels via Facebook @cpsauk, Twitter @CPSAuk and Instagram @cpsauk.